Arts Commons offers working artists opportunities in performance, exhibition, mentorship, education, and more.
TD Incubator Opportunities
Prioritizing artists from communities who reflect the diversity and vibrancy of Treaty 7 territory, this program is for artists who move between disciplines and whose work is in conversation with the world around them.
TD Incubator artists will have the opportunity to perform or exhibit in a variety of programs and galleries, including (but not limited to):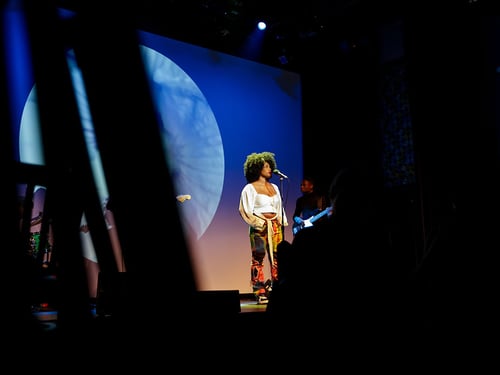 Artist fees for these engagements vary as the series themselves range in duration, complexity of work, etc. however, fees range from $150 to $1,400.00 per engagement. If you have any questions about TD Incubator, please contact incubator@artscommons.ca.
Submissions for 2023-24 season of TD Incubator, including TD Amplify Cabarets, ArtsXpeditions, and Broadcast Lab, +15 Soundscape, are open now and close June 30, 2023.
RBC Emerging Visual Artists Program Opportunities
Through one-on-one mentorship opportunities, professional development sessions, networking social events and exhibition opportunities, RBC EVAP artists will enter the next phase of their career. Artists will also be selected to showcase their work in our galleries, and a professional artist fee will be paid to those exhibiting artists.
The RBC Emerging Visual Artists Program at Arts Commons is currently seeking submissions for the Ledge Gallery, Lightbox Studio, and Window Galleries in Arts Commons for September, 2023 through to August, 2024. Submissions are welcome year-round, but the deadline for the 2023-24 season is April 10, 2023.
For more information, please download our Criteria Guide.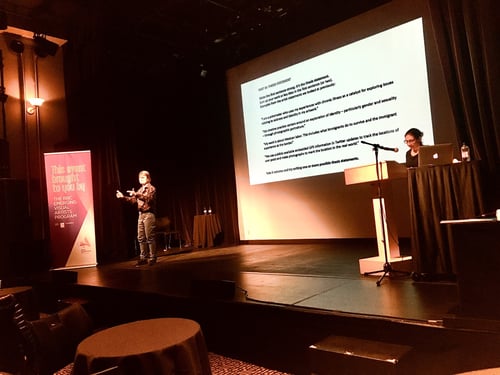 Teaching Artists and Arts Facilitator Opportunities
Workshop Teaching Artist
The Workshop Teaching Artist shares their artform in a way that allows learners to see the world through a joyful, creative lens. Learners will build new skills, knowledge, and understanding in the art form. The creative process will guide the learning, allowing participants to create, question, and reflect on the process. The Workshop Teaching Artist will work alongside the Arts Commons Education Specialist and Arts Facilitator.
Arts Facilitator
The role of the Arts Facilitator is to foster a safe and engaging environment for students, teachers, and communities during their tine at the ConocoPhillips Hub for Inspired Learning. The Facilitator works alongside the Arts Commons Education Specialist and inspires learners to make connections to the arts, themselves, and their community through a series of hands-on workshops, reflections, and questioning.