The world is complex – as is the city of Calgary – and the art that reflects it should be too. The TD Incubator program is designed to support this idea and the artists who are increasingly choosing to move between and blend artistic forms – musicians who make their own films, dancers who are blending movement with visual art, actors who are expanding into spoken word poetry. The possibilities are endless.
Each season of the TD Incubator program is designed and facilitated by Incubator Fellows. These Fellows – who will change from season to season – guide the direction of Incubator offerings, curate exhibitions and performances, and also receive direct mentorship and support in their career development. The 2023-24 TD Incubator is curated by a single Incubator Fellow – spoken word performer, community builder, Calgary's sixth Poet Laureate, and TD Incubator program alumnus, Wakefield Brewster.
Prioritizing artists from communities who reflect the diversity and vibrancy of Treaty 7 territory, the mission of TD Incubator is to accelerate these artists' careers. As the largest arts centre in Western Canada and a gathering space for all artistic disciplines, Arts Commons is uniquely positioned to grow, celebrate, elevate, and learn from these artists. There is no cost to participate in the professional development, networking, and/or mentorship elements of TD Incubator – these are offered to advance artists' knowledge, networks and career. Selected artists ARE compensated for the work that they exhibit and/or perform for audiences, and all selected artists will have at least one opportunity to exhibit and/or perform for audiences.
Each edition of the TD Incubator program will shift slightly according to the guidance of the Incubator Fellow(s). But the season of programming will follow these elements:
Networking: Artists in the TD Incubator program will be invited to meet, discuss, share, support, and challenge each other, the professional artists connected to Arts Commons, as well as arts leaders in the broader arts community of Calgary.
Professional Development: These events and workshops will focus on career development and capacity building, artistic approaches to social change, and applying artistic practices to other areas of life, work, and culture.
Mentorship: Using Arts Commons' network of local and visiting artists, this element of the program will build relationships between participants and leaders in their fields of interest.
Performance & Exhibition: Cohort artists will be given paid opportunities to connect the unique avenues of their practice with audiences through Arts Commons Presents performances, Arts Commons Galleries (including Broadcast Lab and +15 Soundscape), or Arts Commons Education initiatives. 
Networking events will be decided based on the selected artist cohort. However, these events will connect TD Incubator artists to existing networks, arts leaders, civic thinkers, and other artists – both visiting and local.
Apply now to join the cohort for the next season of TD Incubator.
Still have questions? Visit our FAQ page for more information.
2023-34 Season curated by Wakefield Brewster
PeoplePuzzle: Some Assembly Required
2023-24 Incubator Vision Statement
One may visualize their person, a person, any person – as a puzzle.
We are born with a few pieces. We grow out of some and into others. We manifest more from within to fill the spaces. All these intrinsic pieces – those closest to us – are curated by connection, forged in a deeply personal foundry of familiarity.
The extrinsic parts of our puzzles come from farther regions: the orbits, the ellipses, the unknown. They are produced and procured in spaces, places, and people unexpected.
To finally complete one's personal puzzle, one must look outside the box.
Such is the task and direction for the 2023-24 season of Arts Commons' TD Incubator program: a journey defined by connection, collaboration, and creation – artists extending outwards in search of a piece to finally complete a border, illuminate an image, or fill a gap. The picture of this season will be shaped by artists practicing disciplines defined by difference and curiosity and risk. We seek expressions, forms, ideas, and intentions that are distinct enough that they may find their opposite, and strong enough to bend as they combine forces. There is some assembly required.
When this puzzle is truly complete some pieces may be damaged, may be broken, may be missing… and all these pieces – these gaps and frayed edges – will fit your puzzle perfectly.
TD Incubator Cohort 2022-23
Meet

the Fellow —

Wakefield Brewster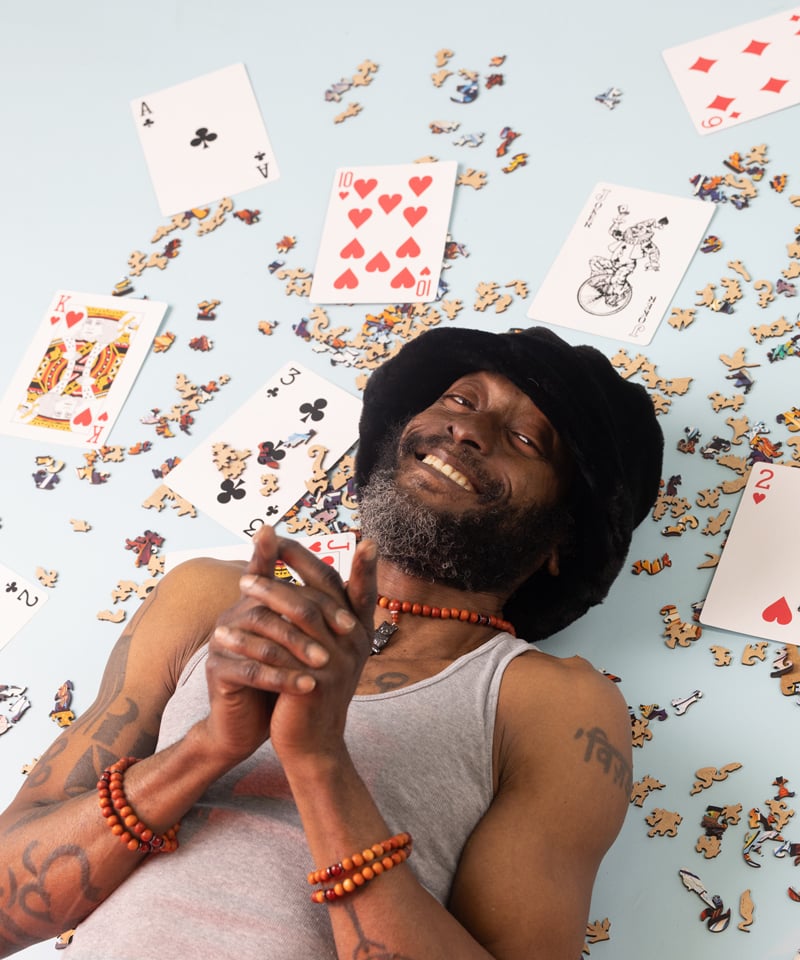 In January 1999, Wakefield Brewster stepped onto his first stage as a poet and spoken word artist. Today, he is known as one of Canada's most powerful professional performance poets.
A Black man raised in Toronto by parents from Barbados, he has resided in Calgary since 2016, and it is in the "New West" where Wakefield has been able to truly flourish as a Poet and as a person.
Throughout his career, Wakefield has been published in several anthologies, such as T-Dot Griots (2004), The Great Black North (2013), The Calgary Project (2014) and The Black Prairie Archives: An Anthology (2019). Since moving to Calgary, he has produced two Professional Recordings to his credit, such as da lyrical pitbull (2007) and east2west (2008).
He is a three-time Calgary Poetry Slam Champion & Team Captain (2006, 2008-2009), the inaugural Poet of Honour at the 2011 People's Poetry Festival, a former poet-in-residence at Arts Commons and The Grand Theatre, a member of the Canadian League of Poets. In 2021, he was named the Peter Gzowski Foundation for Literacy Calgary Poet Laureate from 2022-24, and in the 2021-22 season at Arts Commons, he was a participating artist in the TD Incubator program at Arts Commons under the guidance of Incubator Fellows Contra and Jae Sterling.
Wakefield is a registered massage therapist and owner of WakeFull Wellness Registered Massage Therapy & HealingSpace, and expands his community practice as a volunteer and mentor for Calgary youth through the arts and an advocate for literacy, healing arts and alternative medicine, addiction recovery, and mental wellness.
After all that the stage has given him, he has discovered other ways that he may repay his beloved poetry and arts communities by performing silently, backstage, for them. Underneath the many hats and hoodies he wears resides a wonderful life.
Apply now to join the cohort for the next season of TD Incubator.
Still have questions? Visit our FAQ page for more information.