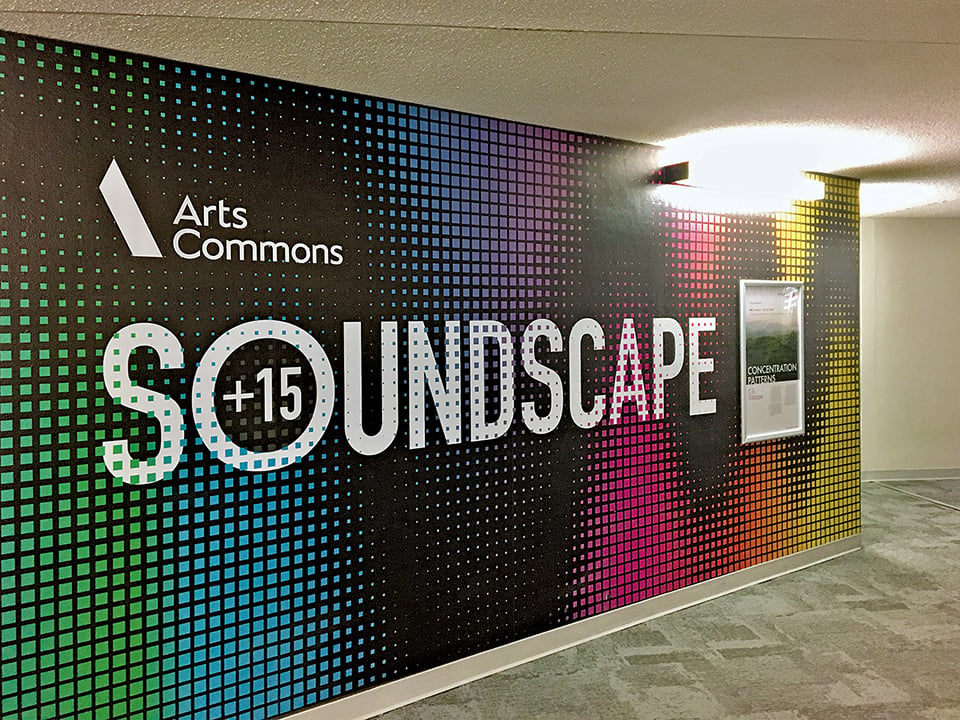 Hear how sound becomes art in one of the few multichannel sound galleries in Canada – the +15 Soundscape. Showcasing the creations of local and national sound artists, Soundscape takes your daily walk to a new level and makes it an immersive arts experience. Located on the +15 level near the Theatre Calgary and Alberta Theatre Projects administrative offices, just west of the City Hall +15 walkway.
Are you a sound artist?
Arts Commons invites sound artists, from across Canada and the world, to submit their multichannel sound art proposals. Visit our Calls for Submissions page for more information.
+15 SOUNDSCAPE
Current Exhibition
Seven Portals
EXHIBITION STATEMENT
This soundscape was created as a part of Jae Sterling's immersive installation SEVEN PORTALS that debuted at Truck Contemporary Art in March 2022. In SEVEN PORTALS, Sterling expands on many of the themes and concepts him and Contra have been exploring through their curatorship at Arts Commons. The pandemic is a portal—a looking glass—that has forced us to confront the past, process the present, and consider new futures in a multiplicity of ways. SEVEN PORTALS reflects on the drastic shifts in our current reality, inviting us to enter the threshold to an oasis of art, water and light and emerge on the other end—refreshed and renewed. With SEVEN PORTALS, Sterling offers a meditative, enveloping space of transitory ideas, accessed through the portals that exist all around us. This soundscape was created by Incubator fellows Contra & Sterling as the final piece of the SEVEN PORTALS experience. This soundscape samples the work of Canadian producer & FRNRZ member Jide, Texas based Tyris White & London based Nala Sinephro.
ARTIST BIOS
Jae Sterling is a member of the THOTNATION/SANSFUCCS collective. Beginning as a musician with four musical projects to date, he has extended his practice to painting (acrylic & oil), digital design & mixed media, streetwear design, and written essays. Jae developed his artistry by weaving his experiences growing up in Jamaica, South Florida, and coming into adulthood in Canada into his work. In 2020, Sterling embarked on an ambitious year-long multimedia exhibition, Riding Horses with White Men, the success of which led to him being one of Calgary's first Black muralists, painting The Guide & Protector in Chinatown. In 2021, Jae intends to release a collection of essays from his year-long exhibition and launch BIG BULLY apparel.
Contra is a multidisciplinary artist who navigates the Canadian arts and culture landscape as a musician, director, producer, and creative strategist. Her most prominent project to date is through her work in Cartel Madras, an expansive and experimental music project now signed under Sub Pop Records. As a founding member of the THOTNATION/SANSFUCCS collective her artistic journey has also brought her into the world of art direction, visual production, and creative strategy. Challenging cities, industries, and narratives to allow new voices in is at the very centre of how Contra pursues all her creative endeavours; furthering culture and allowing art to thrive. Using her eclectic professional background within the creative sector, Contra has been able to combine her artistry with business strategy and marketing acumen with initiatives through her collective.

Get the Inside Scoop
Sign up for Spotlight, our monthly newsletter, and you'll be among the first to learn about the latest performances, events, and updates at Arts Commons - plus you'll get neat behind-the-scenes looks at how, and who, makes it all happen. We're biased, but we think it's pretty cool.