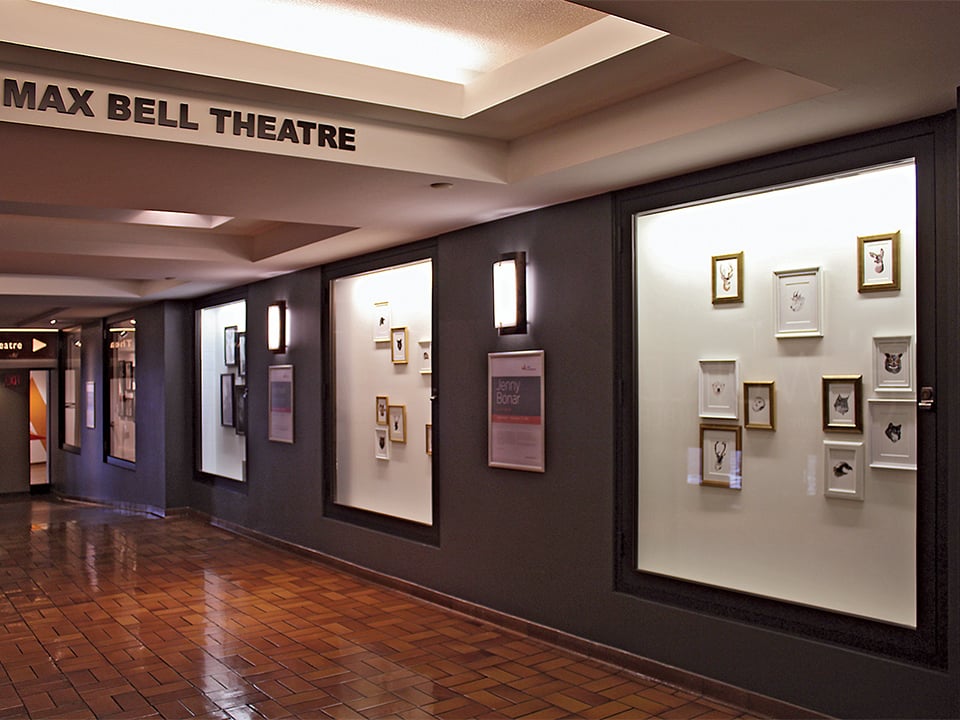 The Window Galleries encompass seven unique spaces showcasing two-dimensional and sculptural artworks by local emerging artists and art collectives. Located in the hall adjacent to the Max Bell Theatre, on the main level of Arts Commons, the Window Galleries immerse you in the arts experience from the moment you enter the building. Exhibitions in this location run on three-month intervals.
WINDOW GALLERIES
Current Exhibit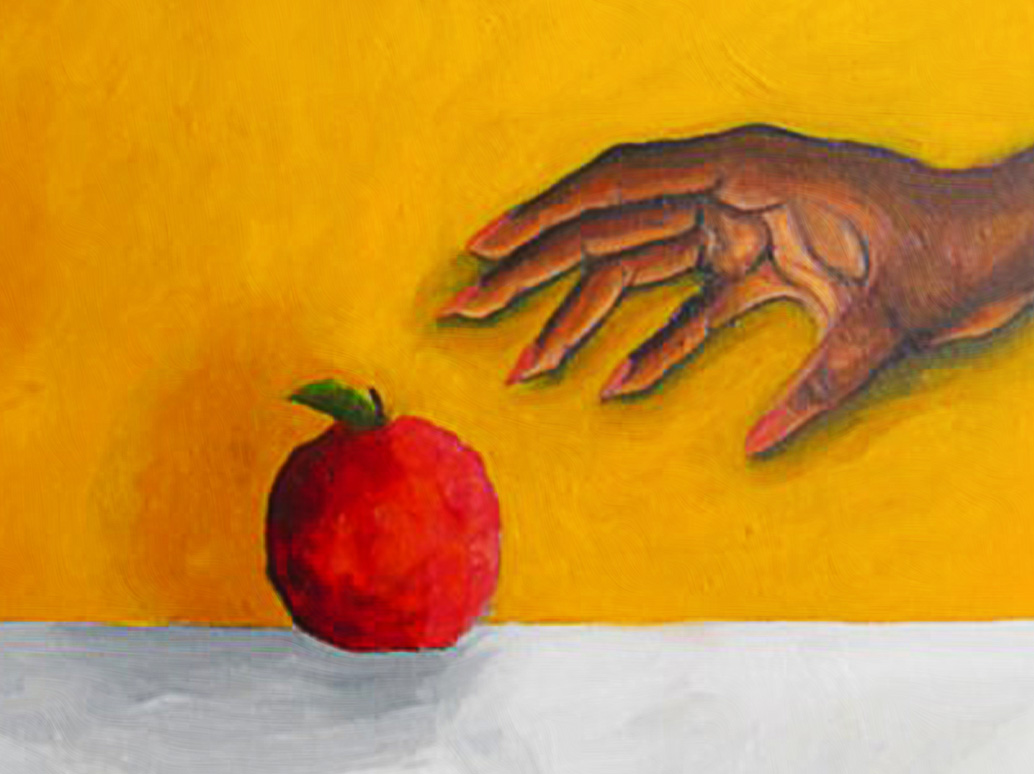 Apiow Akwai
Self-evaluation

EXHIBITION STATEMENT
The Self-evaluation series is inspired by the COVID-19 pandemic. During the first year of the pandemic, we all struggled forming emotional connections to others while quarantining. This time gave me the opportunity to self-evaluate by creating work that translated the emotions others might be going through as well as my own. Although some of my paintings display decapitation of the head; this is a visual representation of the disconnection we all felt during this time with not being able to form emotional connections to others. I included landscape and vibrant colors in these paintings to garner the audience's attention without causing discomfort. The use of art therapy concepts was also one of my main focuses when creating this body of work to shed light on mental health and the importance of seeking help or finding other outlets to cope with mental health. This body of work is also an important self-evaluation format that gives me the opportunity to remember where I was in my life when I created these paintings. This series is a visual album of my journey in finding myself and cultural identity through the arts.
ARTIST STATEMENT
Apiow Akwai is an emerging artist based in Calgary, Alberta. She discovered her passion for the arts at the age of six. She first became interested in pursuing a career in visual arts after attending her first exhibition devoted to Michelangelo Merisi Caravaggio at the National Gallery of Canada. Caravaggio's style incorporates raw and haunting emotions that resonate deeply with Apiow as a person and as an artist, greatly inspiring her work. Her work primarily focuses on the contrast between light and dark shadows, highlighting the fine details of the dark and beautiful chaos of emotions that is intentionally portrayed across all her work.She has also worked with non-profit organizations such as the Boys and Girls Clubs of Canada and Centre for Newcomers and has spearheaded art-based initiatives to inspire young people from at-risk communities to have a creative outlet. She has over six years of experience working with youth in educational, recreational programming, and teaching visual arts.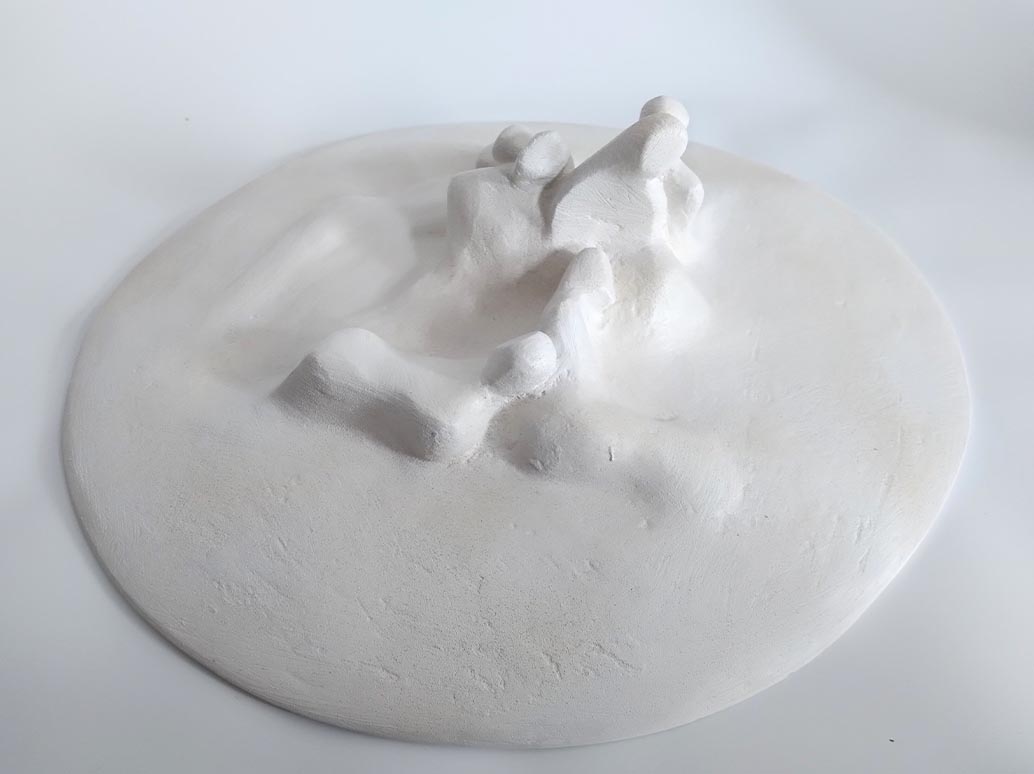 Gesture Speaks
Mila Datta

EXHIBITION STATEMENT
say, and so I create sculpture to convey all that I cannot find the words for. I create abstracted figural forms that lack facial features and skew anatomy. My figures are intentional, emotive and communicative in their forms. My sculpture began as observation, but often depicts my personal experiences with emotion. Heavily influenced by family, feelings of support, love, and curiosity are often revealed in my work. Currently they are molded in clay and cast in plaster in small, medium and large scales. I intend to create more pieces utilizing non-traditional materials.
ARTIST STATEMENT
Mila is a visual artist with a primary focus on sculpture. She graduated from the University of Calgary with her Bachelor's degree in Fine Arts. Her work in sculpture depicts minimal abstracted figural forms. As her sculpture lacks facial features, her work explores the communicative power of gesture. The work is intended to provoke familiarity, dialogue, and question. What began as observation of behaviour often manifests the artist's own thoughts and feelings. Though she currently works in more traditional materials, she hopes to create work utilizing recycled, and uncommon materials in the future. She currently lives and works in Calgary, Alberta.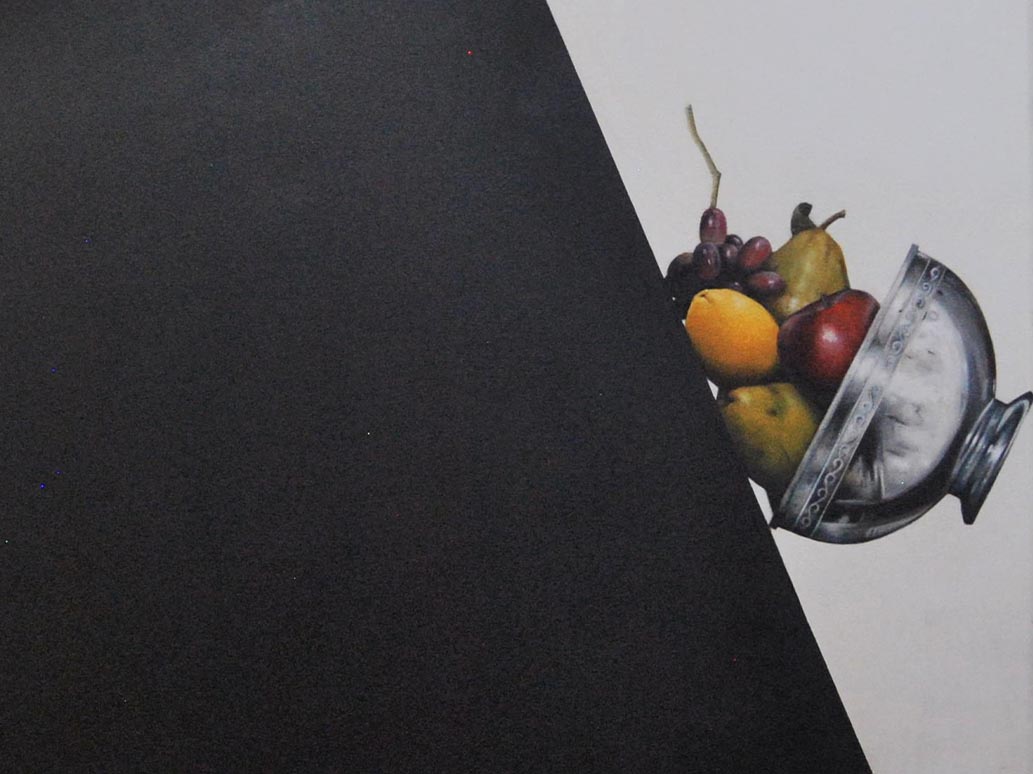 Secrets of Sculptures
Nick Rooney

EXHIBITION STATEMENT
Following a demonstration in Montreal where a statue of Sir John A. Macdonald Canada's first prime minister was destroyed, the history of public monuments and their relevance has come into question. I believe it is important to research the history of our monuments, when and why they were commissioned, their relevance to contemporary society, and the impact they have on various communities. This in-depth study will allow me to create a series of oil paintings much like the work I created while in London, working with objects of cultural significance. In the work "Captivity" I looked at the idea of preserve vs pillage when it comes to the Parthenon Marbles. The Parthenon Marbles are displayed in the British Museum but widely believed to have been stolen from Greece. By bringing together in one frame both my passion for realistic historical representation and minimalist geometric abstraction, I am trying to stimulate a deeper understanding of human nature.
ARTIST STATEMENT
Nick Rooney (b. 1989 Canada) Obtained his MA in Painting from the University of the Arts London, at the Camberwell College of Arts in London, England. Much of his early career was spent focusing on the craft of oil painting developing a contemporary art practice deeply rooted in art history. While his current studio work and research now look at the relationship between the reductive formalism of geometric minimalism and the complexity of classical realism. He has had the opportunity to exhibit both locally as well as internationally, most recently being selected to participate in the Saatchi Gallery's exhibition London Grads Now. Nick Rooney now resides in Calgary (Mohkínsstsisi), Alberta where he is represented by Loch Gallery and an instructor at the Visual College of Art and Design and the University of Calgary. In the spirit of reconciliation, I would like to acknowledge that we live, work and play on the traditional territories of the Blackfoot Confederacy (Siksika, Kainai, Piikani), the Tsuut'ina, the Îyâxe Nakoda Nations, the Métis Nation (Region 3), and all people who make their homes in the Treaty 7 region of Southern Alberta .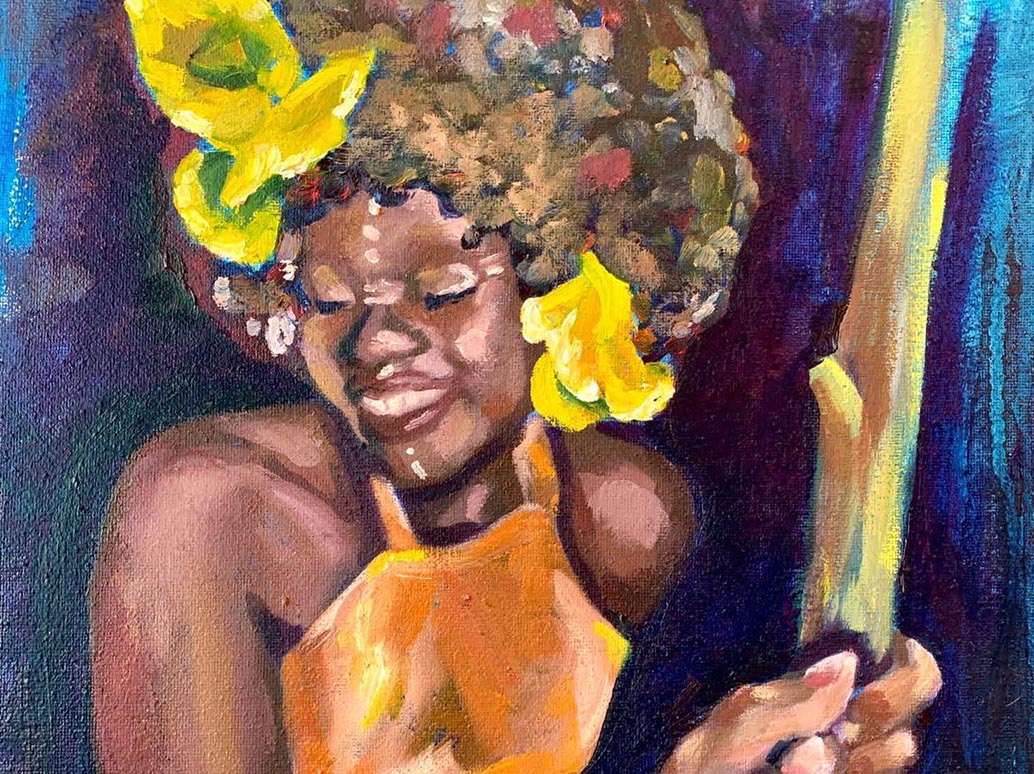 Pause Captured
Rebbekah Ogden


EXHIBITION STATEMENT
Time is a funny thing. At first one can be convinced that time is a gift that gives and delights—for indeed it brings forth new life. But then it turns and when it takes, it is a brutal and harsh thief. It is time that makes us grieve. So I, in an act of defiance of the inevitable journey time forces me on, spend hours of the essential resource creating pieces that capture what it looks like to still time. To live in the present moment without the present moment drifting away too soon. I am at a time in life where the hustle is glorified, but I long for rest. I long to just simply enjoy life. I long to be still. So I paint the reality that I most desire, so that you, in the future, can see a painting that reflects peace and stillness.
ARTIST STATEMENT
Ever since I was a young girl I have been drawn to painting and drawing the human form. Particularly the female form. I work predominantly in oil paint, but occasionally like to switch it up by using acrylic. While I often create art from a place of wrestling with my grief, an essential part is also allowing the curious playful side of me to encounter my work. When I start a painting, I delve into the sad mournful side through the process of creating my reference photo., But once it's time to paint, I'll turn on the music, pour a glass of red wine, and allow myself to splash colour and mix paint for the sheer joy of it.