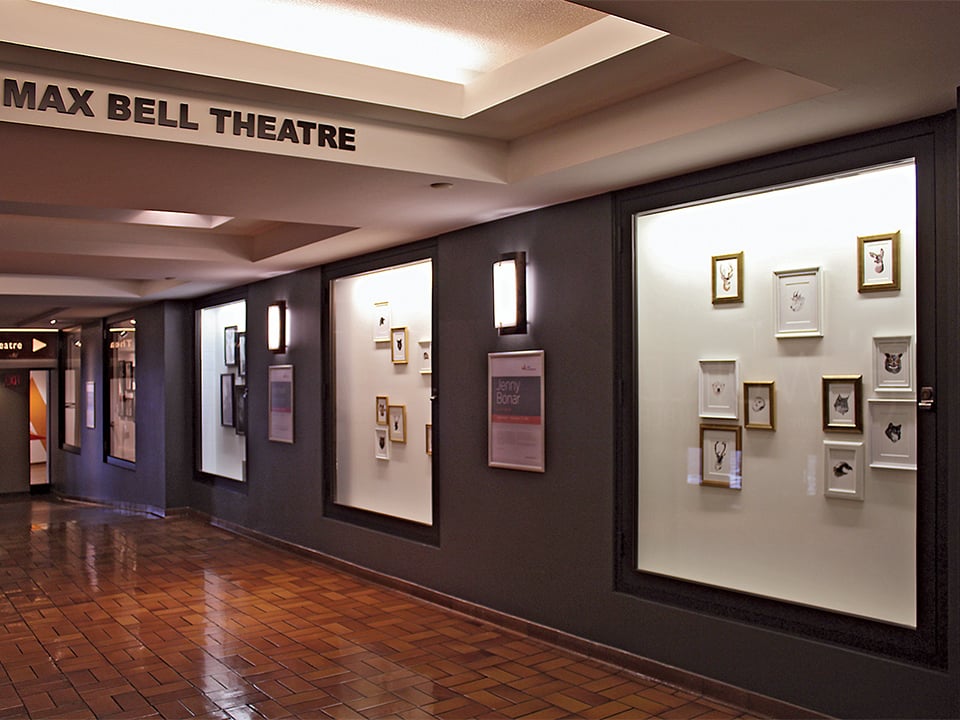 The Window Galleries encompass seven unique spaces showcasing two-dimensional and sculptural artworks by local emerging artists and art collectives. Located in the hall adjacent to the Max Bell Theatre, on the main level of Arts Commons, the Window Galleries immerse you in the arts experience from the moment you enter the building. Exhibitions in this location run on three-month intervals.
WINDOW GALLERIES
Current Exhibit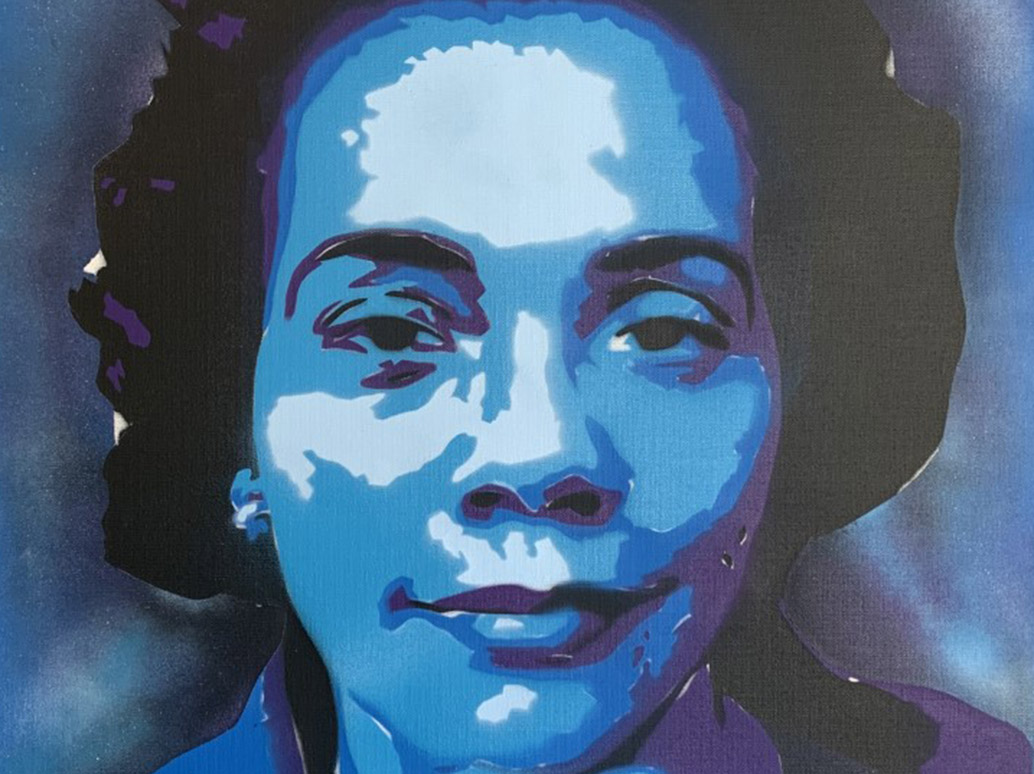 Dear Everyone
Anthony Russell

EXHIBITION STATEMENT
This exhibition consists of pieces that illustrate black culture. From the civil rights leaders right to a good conversation in a community barber shop or salon. Black culture makes us who we are and it's a big part of many lives. This exhibition strives to demonstrate these important and valued aspects. With the use of spray cans, cut stencils and vibrant colors to create a familiar space with alluring pieces of work.
ARTIST STATEMENT
Anthony is a 19-year-old Canadian of Jamaican descent living and creating art in Calgary Alberta. He has been making art from an early age and has been drawn to it ever since. Anthony uses handmade stencils and spray cans to create vibrant pieces of art. In his art he takes on topics of racial and social injustices within the black community as well as combating the stigma and stereotypes that they face. Anthony seeks to correct stereotypes and illustrate the fun, loving, and loyal people that are negatively impacted by social media and the mainstream media.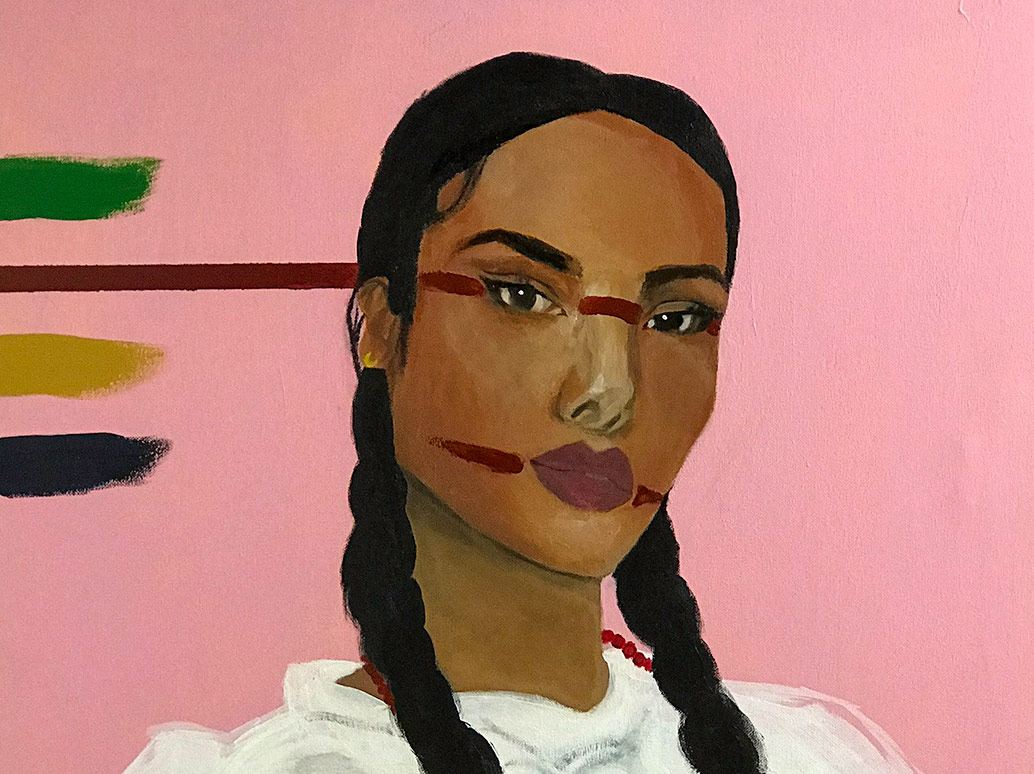 Itsooaakii: Portraits of a Piikani Woman
Evelyn Mikayla Martin (Itsooaakii)

EXHIBITION STATEMENT
Itsooaakii: Portraits of a Piikani Woman will showcase portrait paintings of Blackfoot women, girls, and Aaw'oowanaak (Blackfoot: Individuals who hold multiple gender expressions). These paintings highlight the complexities of engaging in ancient ceremonial practices and having transfer rights as a Piikani'aakii (Blackfeet woman) in 2020. Historically, many of the images captured of our women, girls, and Aaw'oowanaak were photographs taken by white men such as, Hugh Dempsey and Edward S. Curtis. Through the exhibited portrait paintings I will showcase Blackfoot traditional dress, hairstyles, jewelry, face paint and symbolism within my pieces that are worn by Blackfoot women telling the story of what societies I belong to and what ceremonial items I have been transferred. I will be developing new larger scale works and including five already finished pieces for this exhibition.
ARTIST STATEMENT
My current practice as a visual artist works to both center and reclaim my own personal narrative regarding the processes of navigating mental health, cultural identity, and reclamation of space as an Indigenous femme. My body of work primarily consists of acrylic on canvas self-portraits and highlight the complexities of engaging in Ancient ceremonial practices and having transfer rights as a Piikani'aakii (Blackfeet woman) in 2021. Through my portrait paintings I work to reclaim a sense of autonomy and agency over my own representation and narrative as a young Blackfeet woman who grew up living out our ceremonial way of life. There is a unique responsibility and power specific to Blackfoot women that I work to showcase in my paintings. My work reminds Blackfoot women, girls, and Aaw'oowanaak that we are more than this inflicted extraction and intergenerational trauma that we face. We are still rich in resiliency and these ceremonial ways of being, we deserve to have space held for us where our voices can be centered and our beauty can be celebrated.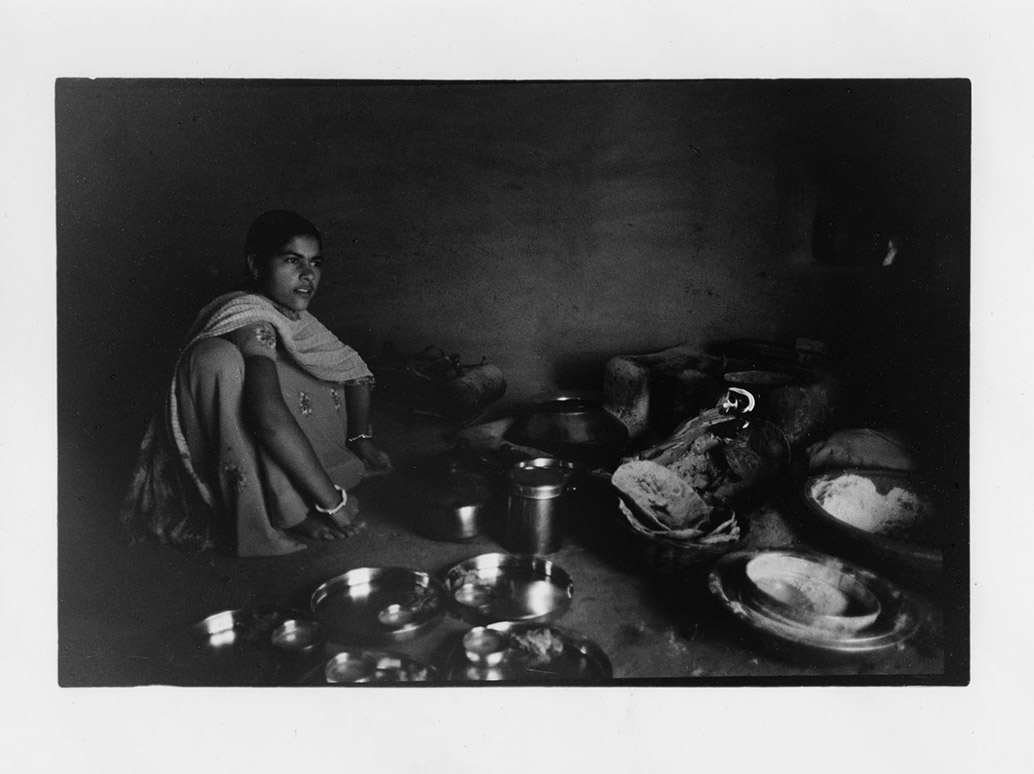 Encountering the Divine
Yamuna Flaherty

EXHIBITION STATEMENT
The past two decades of my life have been devoted to spiritual pilgrimage and personal awakening. Encountering the Divine was the name of my first blog, which I began while travelling in India in 2010, and where I set up a film darkroom after taking a course at SAIT. My project intended to return to a slow and handmade process of creating art, one that forged a deep bond with an individual photograph. The darkroom project was fraught with difficulties, from procuring equipment to stabilizing the temperatures of liquids to power cuts. However, what resulted was a treasured body of work that tells the story of a moment in my journey as much as the process of creating each image. Entirely shot on 35mm film and hand-developed with fibre paper, this series is a tribute to the people in India who inspired in me a connection with the sanctity of everyday life. Aimed at tackling the lack of connection and isolation that has become a global epidemic on this planet, my storytelling seeks to convey deep respect and hopefulness for humanity. I invite the viewer to look at the world through a mythopoetic lens, with confidence that it will return a holy wonder to our shared human experience.
ARTIST STATEMENT
Yamuna Flaherty is a self-taught photographer and storyteller born in Calgary, Alberta. At the age of eighteen, she left her hometown to explore the world and record her experiences in journals and photographs. She has since travelled and lived in nearly fifty countries. What first began as a means to document her life as an explorer soon transformed into a way she could make an impact. For the past two decades, Yamuna has been photographing and writing about humanity, celebrating its poetic beauty, and inviting others to consider that the world is, in fact, a place filled with more love than hate.