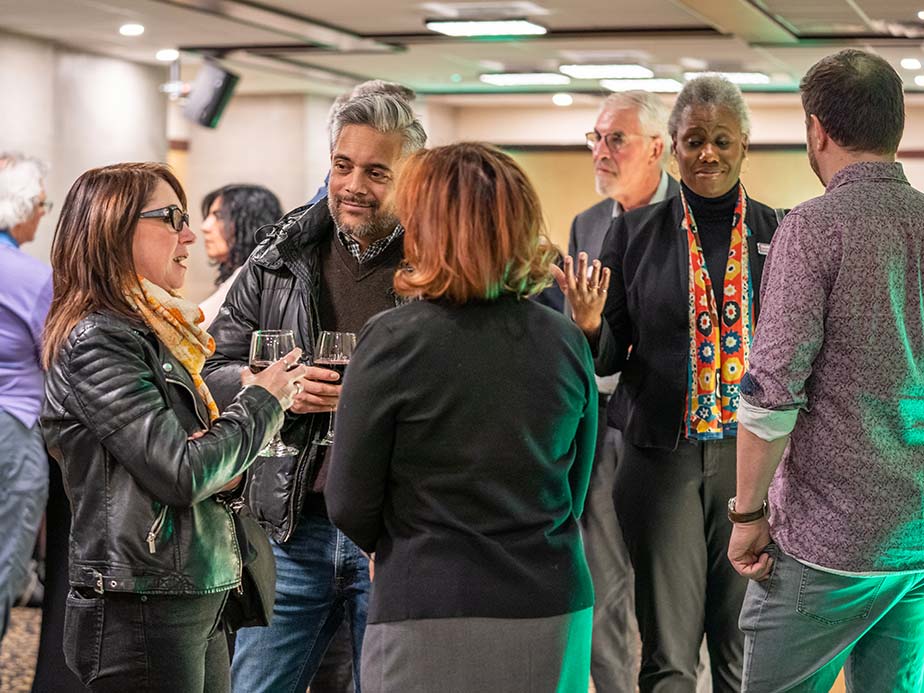 Our Thanks
Founders Circle brings members closer to the Arts Commons Presents and resident company artists that grace our stages, while helping to grow our ability to share the transformative power of the arts with many more in our diverse community.
We are grateful to the following members of Founders Circle that support our work in performance, learning, and community engagement. Enriching the lives of Calgarians through the arts is our shared aspiration.
Founders - Honourary Members
Dr. Martha Cohen, C.M., LL.D. (in memoriam)
Sandra LeBlanc
Vera Swanson, O.C. (in memoriam)
Founders - Platinum Tier @ $10,000 & Up
David & Roxanne Dunlop
Rodney & Karen McCann
David & Betty Smith
Founders - Gold Tier @ $5,000 - $9,999
Anonymous (1)
Jeff & Michele Boyd
Barb Gosling & Derek Small
Ken Havard
R. Scott & Lesley Hutcheson
Knight Family
Greg & Alexa Kudar
Jim & Lesley Laycraft
Brian Mills & Susan Tyrrell
Margo & Brant Randles
Henry Sykes, QC & Molly Naber-Sykes
Maureen Williams
Founders - Silver Tier @ $2,500 - $4,999
Anonymous (3)
Glen & Brenda Andrews
Colleen & Norm Dickson
Greg Epton & Greg Robertson
Neil & Sue Huckle
Tasha Komery
Roderick & Jean McKay
John & Susan McWilliams
Chima Nkemdirim, Q.C.
Randy & Luba Pettipas
Alex & Aliza Sarian
C.A. Siebens
Sandra Stevens
Roderick Villanueva & Jennifer Kingsbury
Leianne Vye-Rogers & Greg Rogers
Norma & Ron Westcott
Benefactors @ $1,000 - $2,499
Anonymous (3)
Colin & Wendy Anderson
Maureen Armitage & Shane Matthews
Heather Campbell
Cheryl & Dennis Cornelson
Fern Cyr
Kaija Dirkson & Doug Hildebrand
Leigh-Ann Duke & Rob Nipp
Megan Fielding
Michael & Jo-Ann Glover
Corey Hallisey
John & Nadine Harder
Andrea Hopps & Michael Mezei
Jennifer Johnson & Trev Habekost
Dr. Patricia Kostouros & Dr. Kenneth Barabash
Arun & Roopa Lakra
Alex MacWilliam
Chris Malkin
Christina & Paul Marlett

Benefactors @ $1,000 - $2,499
M. Ann McCaig
James Midwinter & Pamela WeberKate Monaghan
Joe & Judy Osinski
Dr. Jeremy Quickfall
Stuart & Vicki Reid
Mike & Mireille Robinson
Holly Schile & David Nielsen
Bernie Slogotski & Thedra Hunt
Alane Smith
Marg Southern
Patricia van de Sande & Tim Flaman
Fellows @ $500 - $999
Barbra Beaton
Tim Beattie
Donna Crawford
Heather Haddow
Sami Hayek
Sandra Lee
Jennifer Mork
Polar Bear Mechanical Ltd.
Christine Rendell
Patricia van de Sande
Friends @ $100 - $499
Anonymous (2)
Robert Albricht
Viray Anthony
Peter Armour
Jan Armstrong
Edgardo Arvelaez
Sharon Baker
Katherine Balmaceda
Lucie Beausejour
Kristi Berlin
Mark Bowman
Barbara Burggraf
Kyle & Denise Carroll
Judy Chernos
Dr. Judy Chernos
Andrew Cooper
Jerine Cropper
Patricia Dalk & Terry Burton
Tom Dance
John Davies
Friends @ $100 - $499
Charles Dixon
Ignacy Domagalski
Nancy Eckart
Kelly Edwardson
Emily Eng
Brenda Fick
Corrine Fiesel
Emily Fleming
I. Forgues
Nancy Gant
Colin Gobert
Richard Haley
Greg & Jacquie Halpen
Jason Heisler
John Henry
Martin Hogan
Martin Hoornaert
Mark Hougen
Charlene Hunter
Jamie Leong-Huxley & Tim Huxley
Jonathan Hyatt
Kim Imhoff
Friends @ $100 - $499
Terry Isaman
Alison Jackson
Brennen Jaques
Salimah Kassam
Darryl King
Doug Kletke
Doug Kraan
Marion Kruschell
Leslie Lawrence
Bonnie Leach
Wayne Lui
Jeroen Maarten Stil
Carol Mathers
Myrna Michieli
Alexandra Millar
Andrew Miller
Barbara Mitchell-Desta
Francois Montandon
Jennifer Mork
Ian Morley
Traci Morrisey
Rodney Anne Muir

Friends @ $100 - $499
Nahid Naini
Louise Neilsen
Arlene Nissen
Dan Northcott
Karen O'Connor
James Olsen
Beverly Pede
Roy Penner
Chrislyne Pham
Paolo Recarro
Robert James Rees
Deborah Rheinstien
Ann Rooney
Cyndi Ruff
Michelle Sage
Gillian Sandiford
Don Schwartz
Ian Scott
Keith Learmonth
Sandra Lee
Joanne Lennon
Nicole Liboiron-Coles

Friends @ $100 - $499
Rafal Lichman
Caitlin Logan
Lance Shilliday
Christina Siu
Karina M Spencer
Jeroen Stil
Douglas and Laurie Strother
Jason Tate
Moira Thom
Wiliam & Colleen Tobman
Brian Vasseur
Anthony Viray
Silvia Von Bassenheim
Roberta Walle
Cindy Ward
Jeanne Watson
Robert Watson
Ken Wieltchnig
Garth Wong
Teghan Yanover
Karen Youngberg
Learn more about Founders Circle
If you would like more information on the program, please feel free to contact us at 403-294-7497 or by email. Or, if you would prefer we contact you, please complete our Membership Enquiry Form and we will respond to you within two business days.