Education
The ConocoPhillips Hub for Inspired Learning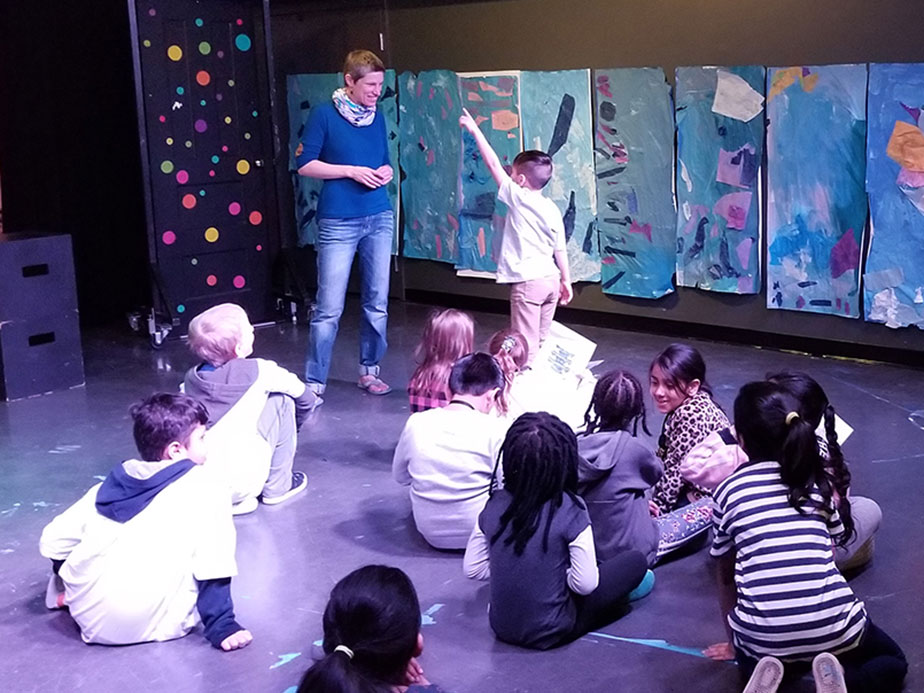 Welcome to the ConocoPhillips Hub for Inspired Learning, where Arts Commons becomes the springboard into curiosity and imagination!
At the ConocoPhillips Hub for Inspired Learning students are immersed in opportunities to explore the Performing and Visual Arts as it connects to each class' curriculum. In a one-day, two-day, or five-day engagement, students connect with industry experts for hands-on learning that promotes creative bravery while connecting to the joy of discovery alongside their peers.
Workshop possibilities include:
Storytelling through music, dance, drama, comic books, shadow, and puppetry
Performance: drama, masks, clown, improv
Visual Arts: painting, ink printing, mixed media, collage, textiles, photography, and sculpture
Learning and creating alongside cultural experts
Spoken Word and Poetry
Audio: soundscapes, audio lab explorations
Stage Craft: set design, costumes, directing, lighting design, and SFX makeup
Students are supported to be their best, encouraged to do the right thing, and invited to lead with an open mind and heart.
Explore the opportunities below. Both teachers and students will leave transformed having made discoveries about themselves, their community, and the world around them.
One- and Two-Day Wonder Programs
Collaborate with the Education team to customize your day and how it connects directly to your class' curriculum. Students and teachers will have the opportunity to create and work alongside visual artists, cultural specialists, theatre experts and so much more!
Suitable for Grades K – 12.
One Day Wonder Cost: $550.00 +busing
Two Day Wonder Cost: $700.00 + busing
To check for available dates, please email education@artscommons.ca or call 403-294-7414.
Five-Day Wonder Program
In partnership with Campus Calgary / Open Minds, Arts Commons hosts school classes from Grades 1-12 for a week-long field study of arts integrated inquiry. This award-winning program was one of the programs recognized by the Calgary Board of Education in 2015 for the Lighthouse Award.
Big Question/Inquiry Ideas:
How can our past inform our present and futures?
How can I be a change-maker?
How can creativity and innovation improve our quality of life?
How are we all connected?
How does our city respond to change?
What are the impacts of my actions?
How do we create a sense of place and belonging?
How do we take risks and build resiliency within ourselves / our community?
What stories can we tell? Whose story can we hear?
What is empathy?
What does it mean to be interconnected to each other? The land? The environment?
How can we solve problems?
How to Participate:
Applications Open: February 28, 2022
Applications Close: May 12, 2022
Teachers can submit their application to Campus Calgary/ Open Minds https://cbe.ab.ca/ccom/Pages/Apply.aspx
Cost: $1250.00, including busing
Find more information about applying to the ConocoPhillips Hub for Inspired Learning through the Campus Calgary / Open Minds portal.
Questions? Contact our Education Team at 403-294-7414 or education@artscommons.ca.
"This is what makes my teaching relevant. I wished we could spend even more time in this space. It is also inspiring spending time with educators who understand the arts. It is reinvigorating and enriches my own experience as a teacher. Thank you for such an incredible week."
– Participating Teacher
"I just think that I would give this place 80 million stars out of ten!"
– Gr. 5 Student
"
The Calgary Board of Education is pleased to partner with Campus Calgary Open Minds and Arts Commons to provide our students with unique, experiential learning opportunities outside of the classroom that uncover curriculum through the lens of the arts.

"

– Trina Hurdman, Chair of the CBE Board of Trustees
"As a company with more than 100 years of history in Canada, it is important to us to contribute to the communities where we live and work. We are pleased to support the passionate men and women at Arts Commons who provide fascinating, educationally rich environments for local students to engage in hands-on discovery, exploration, and reflection."
– Kirk Johnson, ConocoPhillips Canada President
"
The Calgary Catholic School District is excited to continue our collaborative relationship with Arts Commons and Campus Calgary Open Minds. With the generous support of ConocoPhillips Canada, our current and future students will have opportunities to discover arts learning in an innovative and vibrant community setting.

"

– Cheryl Low, Chair of the CCSD Board of Trustees