Arts ReimaginED is getting parents and caregivers excited!

Research shows that employers are looking for a new generation of employees who have creativity, curiosity, resiliency, collaboration, and cultural and emotional intelligence – all skills that are honed by arts education. Yet despite overwhelming research supporting these positive outcomes, many parents and caregivers are not aware of these benefits.
Arts ReimaginED is creating opportunities to unlock your child's creative potential through arts education, from in-classroom opportunities at their school to free events in your community centered around learning, connection, and discovery. Join us and find out how the arts can expand and support your child's development.
Arts ReimaginED unlocking potential, one child at a time.
As part of the Education Arts Benchmark Survey conducted by Arts Commons in collaboration with Calgary Arts Development, we heard from you that parents and caregivers want to understand the value of arts education.
94%
think development of creative and artistic skills is a good thing.
77%
think personal growth is the biggest benefit of arts education.
45%
think an arts education is not going to help their child get/keep a job.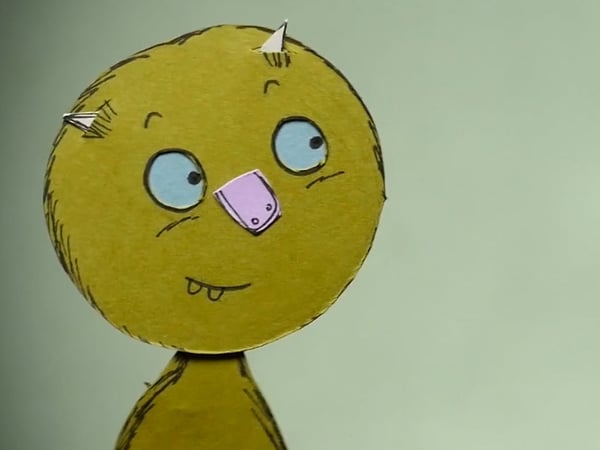 Leonardo! A Wonderful Show About a Terrible Monster
Friday, May 26 – 6:30 p.m.
Saturday, May 27 – 11 a.m. & 2 p.m.
Sunday, May 28 – 11 a.m.

Ages 3 and Up!
Engineered Air Theatre, Arts Commons
Pushing the boundaries of puppetry and children's storytelling, Leonardo! A Wonderful Show About a Terrible Monster tells the story of a monster who longs to be scary and the big decisions about identity and empathy that we all must make.
Based on Mo Willems's multi-award-winning children's book, Leonardo! A Wonderful Show About a Terrible Monster is told through big, bold and colourful visual mediums
The performance will be accompanied by a meet and greet with the creative team, demonstrations of the unique technology incorporated into the show, and the opportunity for attendees to apply the artistic techniques from the show in our Monster Lab by creating your own puppet.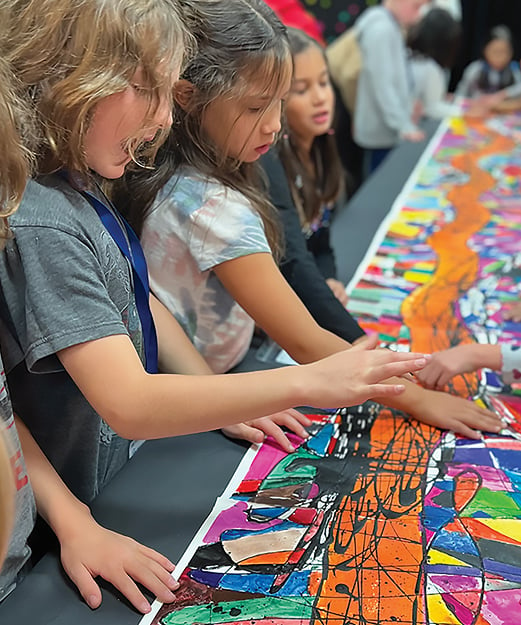 YMCA Workshops
Popping up in your community, Arts Commons invites you and your family to learn from some of Calgary's most esteemed teaching artists. Capacity is limited so sign up today to secure your spot!
Saturday, May 20

Shawnessy YMCA at 10:00 a.m. - 11:30 a.m.
Create Your Own Seed Bombs Through Land Based Stories
Artist: Chantal Chagnon
Traditional Indigenous Storytelling and companion planting has been an integral part of Indigenous Cultures around the world for generations. Together we will hear the stories of the Three Sisters and creating seed bombs to incorporate those plants into our own gardens and spaces. This workshop incorporates traditional ways of knowing, medicines and companion planting and the story of how they've come to be together. Get ready - to get muddy! It's a perfect time to plant at the end of May.
Monday, May 22

Brookfield Seton YMCA at 9:30 a.m. – 11:30 a.m.
Come On An Adventure with 'BOLTS' and Create Your Own Robot
Artist: Jennifer Dale Stables
Drawing inspiration from her book, BOLTS, participants will be guided in creating their own robot creation out of recycled materials and found objects on wood. Get creative with everyday materials such as cardboard, bottle caps, and wire, and learn how to paint metallic effects using acrylic paint.
Shane Homes Rocky Ridge YMCA at 10:00 a.m. – 11:30 a.m.
Dream A New World Art + Storytelling
Artist: Lana Skauge
Create your adventure! Together, we will be building a giant puppet AND exploring tabletop storytelling to create a sequel to The Skywatcher using the "magic three" of storytelling.
Saddletowne YMCA at 1:00 p.m. – 3:00 p.m.
Connect to Land Through Indigenous Stories and Paint Your Own Story Stone
Artist: Chantal Chagnon

Stones carry traditional knowledge and Stories within them. This workshop shares Indigenous ways of knowing and connection to the stones. Together we will hear Traditional Indigenous stories, paint our own stones, and share our stories together.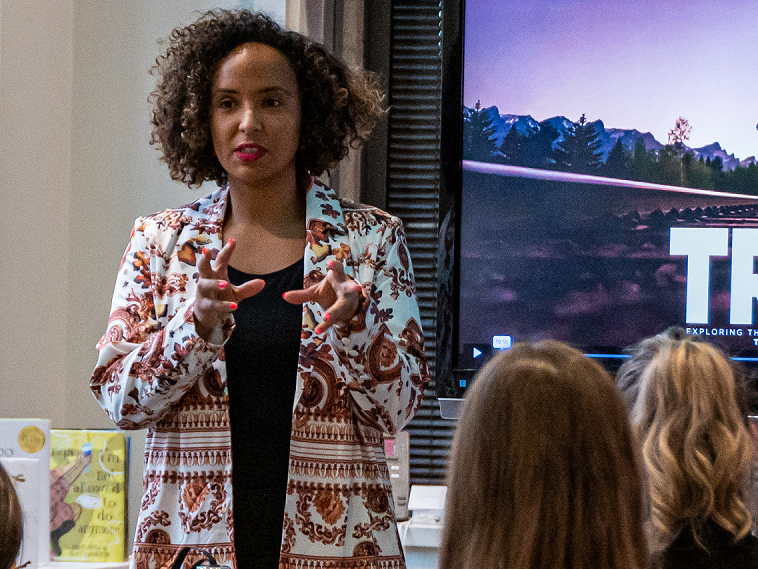 Take It to the Next Level
Are you passionate about education and the arts? We are bringing stakeholders like yourself together to engage in thoughtful and inspiring conversation to reimagine education and the arts.
Featuring a keynote address by celebrated arts education expert Dr. Christopher Emdin, art activations, and panel discussions, the Arts ReimaginED Summit will inspire and align stakeholders on the importance and the long-term benefits of arts education.
See how you can be there alongside other parents and caregivers, art facilitators, and teachers.
Thank You Sponsors!
All of your contributions are greatly appreciated.