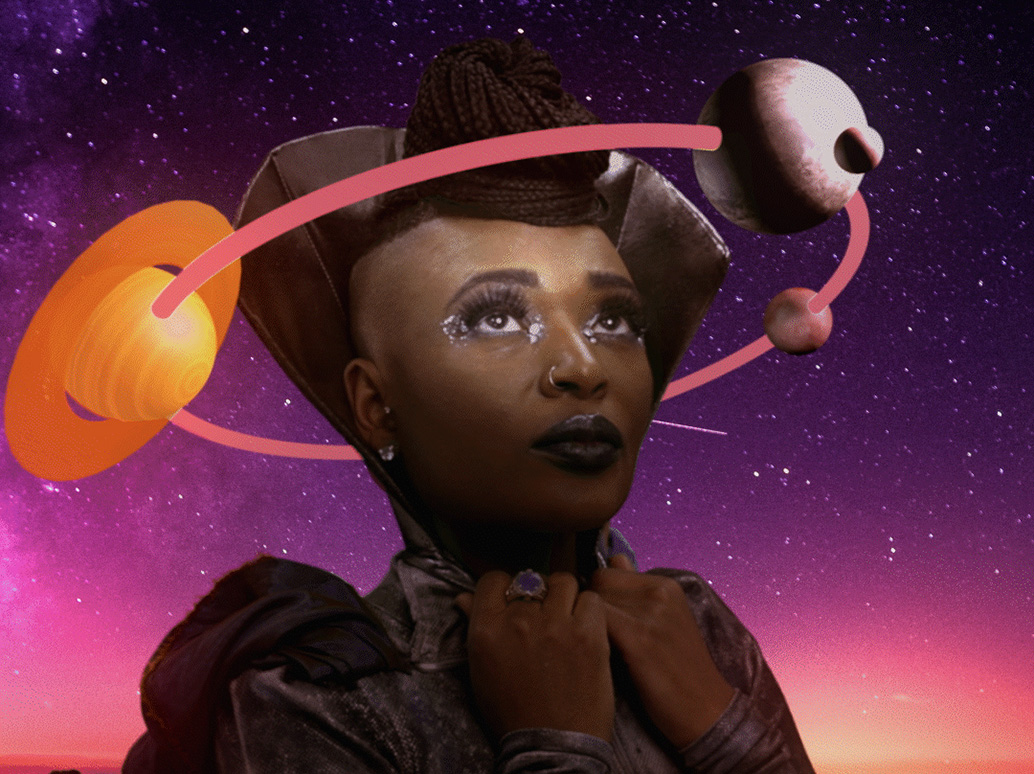 TD Amplify Cabarets
If you know, you know.
Venture down to the Engineered Air Theatre for the uncategorizable, underground hit series from Arts Commons Presents, the TD Amplify Cabarets. Now in its fifth season, this collection of cabarets will once again feature local artists in conversation with the most pressing cultural, artistic, and social conversations of today, all of whom are season participants in the Arts Commons TD Incubator program.
In 2022-23, the cabarets are curated and hosted by this season's Incubator Fellows: the duo behind the Polaris Prize-nominated, Calgary-based hip-hop phenom Sargeant x Comrade and co-founders of Mo Gravy Records, Yolanda Sargeant and Evgeniy "Comrade" Bykovets.
See below for details on this season of TD Amplify Cabarets, featuring an all-new retro-futuristic variety show format.
"They are all similar formats where we present three or four artists per segment and we give them the chance to put themselves out there, present their work and showcase what they do and have a little fun with it," - Evgeniy "Comrade" Bykovets, The Calgary Herald
Photo credit: Photography by Asim Overstands
"Fun, inclusive, thoughtful and titillating."

TD Amplify Cabaret Patron
"

The art performances were so incredible, I was moved literally to tears.

"
TD Amplify Cabaret Patron
"

I loved everything about the evening: the performance, the food, but especially the people. It felt fresh, liberating, and fun. Thank you!

"
TD Amplify Cabaret Patron
"I loved the pure creativity and being introduced to interesting Calgarian artists."
TD Amplify Cabaret Patron
1: 1: 1: Arts Commons Connects 1: Arts Commons Galleries 1: 1: 1: Live Nation 1: Bow Valley College 1: 1: 1: 1: 1: Calgary Philharmonic Orchestra 1: Calgary Philharmonic Orchestra 1: 1: West Island College 1: Arts Commons Presents 1: Calgary Philharmonic Orchestra 1: Arts Commons Presents 1: 1: 1: Theatre Calgary 1: Theatre Calgary 1: Theatre Calgary 1: Arts Commons Presents 1: Showtime Australia 1: Calgary Philharmonic Orchestra 1: Live Nation 1: Calgary Philharmonic Orchestra 1: Calgary Civic Symphony 1: 1: Arts Commons Connects 1: Calgary Philharmonic Orchestra 1: Calgary Philharmonic Orchestra 1: Chris Mitchell Jazz 1: Calgary Philharmonic Orchestra 1: Firdaus Production Inc 1: 1: Calgary Philharmonic Orchestra 1: Moon Coin Productions 1: Calgary Philharmonic Orchestra 1: Calgary Philharmonic Orchestra 1: Calgary Philharmonic Orchestra 1: Calgary Philharmonic Orchestra 1: Calgary Philharmonic Orchestra 1: Alive Danceworks 1: West Island College 1: Absolute Dance Inc 1: André Buarque 1: Arts Commons Galleries 1: Shantero Productions 1: Arts Commons 1: Calgary Folk Music Festival 1: Calgary Folk Music Festival 1: Shantero Productions 1: Calgary Philharmonic Orchestra 1: Two Towers 1: Live Nation 1: Live Nation 1: New West Society 1: Kensington Wine Market 1: One Yellow Rabbit 1: One Yellow Rabbit 1: One Yellow Rabbit 1: One Yellow Rabbit 1: One Yellow Rabbit 1: One Yellow Rabbit 1: One Yellow Rabbit 1: One Yellow Rabbit 1: One Yellow Rabbit 1: One Yellow Rabbit 1: One Yellow Rabbit 1: One Yellow Rabbit 1: One Yellow Rabbit 1: One Yellow Rabbit 1: One Yellow Rabbit 1: One Yellow Rabbit 1: One Yellow Rabbit 1: One Yellow Rabbit 1: One Yellow Rabbit 1: One Yellow Rabbit 1: One Yellow Rabbit 1: One Yellow Rabbit 1: One Yellow Rabbit 1: One Yellow Rabbit 1: One Yellow Rabbit 1: Arts Commons Connects 1: Create Kids Fest 2022 1: Create Kids Fest 2022 1: Bow Valley College 1: 1: Calgary Philharmonic Orchestra 1: Calgary Civic Symphony 1: Calgary Civic Symphony 1: Calgary Civic Symphony 1: Calgary Civic Symphony 1: Calgary Civic Symphony 1: 1: 1: Geronimo Inc. 1: 1: 1: Calgary Philharmonic Orchestra 1: Calgary Philharmonic Orchestra 1: Calgary Philharmonic Orchestra 1: Calgary Philharmonic Orchestra 1: Calgary Philharmonic Orchestra 1: Calgary Philharmonic Orchestra 1: Calgary Philharmonic Orchestra 1: Calgary Philharmonic Orchestra 1: Calgary Philharmonic Orchestra 1: Calgary Philharmonic Orchestra 1: Arts Commons Presents 1: Arts Commons Presents 1: Live Nation 1: Arts Commons Presents 1: Live Nation 1: One Yellow Rabbit 1: Shantero Productions 1: Arts Commons Presents 1: Immigrant Services Calgary 1: The Wiggles Live 1: Calgary Civic Symphony 1: Downstage 1: Arts Commons Presents 1: The Institute for Canadian Citizenship 1: One Yellow Rabbit 1: CIF Reconciliation Society presents 1: MODO-LIVE Presents 1: Murray & Peter Present 1: SAITSA 100th Anniversary Presents 1: Arts Commons Presents 1: Arts Commons Presents 1: Arts Commons Presents 1: Arts Commons Presents 1: Arts Commons Presents 1: Arts Commons Presents 1: Arts Commons Presents 1: Arts Commons Presents 1: Arts Commons Presents 1: Arts Commons Presents 1: Arts Commons Presents 1: Arts Commons Presents 1: Arts Commons Presents 1: Arts Commons Presents 1: Arts Commons Presents 1: Arts Commons Presents 1: Arts Commons Presents 1: Arts Commons Presents 1: Arts Commons Presents 1: Arts Commons Presents 1: Starvox Entertainment and Potted Productions Present 1: The Canadian Arabic Orchestra 1: Tar Production 1: 1: Clicquot Trio 1: Pure Country Presents 1: Soor Group Limited 1: Calgary Philharmonic Orchestra