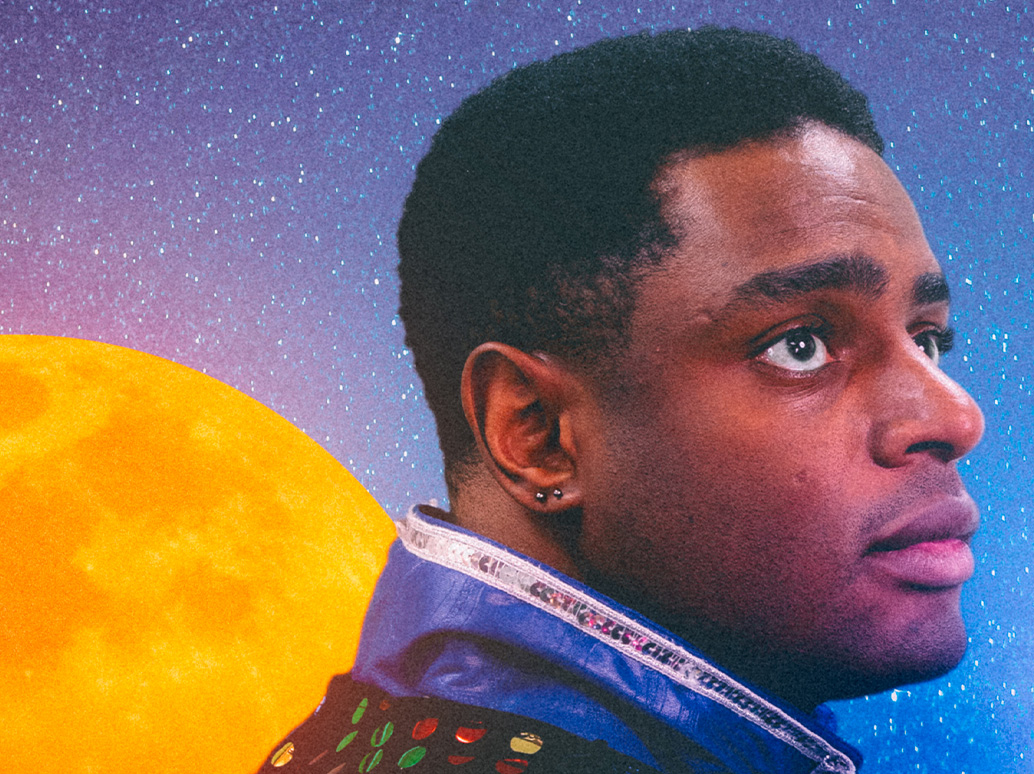 TD Amplify Cabarets
If you know, you know.
Venture down to the Engineered Air Theatre for the uncategorizable, underground hit series from Arts Commons Presents, the TD Amplify Cabarets. Now in its fifth season, this collection of cabarets will once again feature local artists in conversation with the most pressing cultural, artistic, and social conversations of today, all of whom are season participants in the Arts Commons TD Incubator program.
The 2022-23 season of TD Amplify Cabarets are curated by this season's Incubator Fellows: the duo behind the Polars Prize-nominated, Calgary-based hip-hop phenom Sargeant X Comrade and co-founders of Mo Gravy Records, Yolanda Sargeant and Evgeniy "Comrade" Bykovets.
Under the vision "Lo-Fi Futures" - this season of TD Amplify Cabarets launches the retro talkshow format into space - think Johnny Carson on the International Space Station.
Join our intergalactic host Theo Sargeant and some out-of-this-world performers on the dates below:
Saturday November 19, 2022
Saturday February 11, 2023
Saturday April 22, 2023
Saturday June 3, 2023
Photo credit: Photography by Asim Overstands
"Fun, inclusive, thoughtful and titillating."

TD Amplify Cabaret Patron
"

The art performances were so incredible, I was moved literally to tears.

"
TD Amplify Cabaret Patron
"

I loved everything about the evening: the performance, the food, but especially the people. It felt fresh, liberating, and fun. Thank you!

"
TD Amplify Cabaret Patron
1: 2: 3: 1: 2: 3: 1: One Yellow Rabbit 2: One Yellow Rabbit 3: One Yellow Rabbit 1: 2: 3: 1: 2: 3: 1: 2: 3: 1: 2: 3: 1: 2: 3: 1: 2: 3: 1: 2: 3: 1: 2: 3: 1: 2: 3: 1: Arts Commons Presents 2: Arts Commons Presents 3: Arts Commons Presents 1: Arts Commons Presents 2: Arts Commons Presents 3: Arts Commons Presents 1: Arts Commons Presents 2: Arts Commons Presents 3: Arts Commons Presents 1: Arts Commons Presents 2: Arts Commons Presents 3: Arts Commons Presents 1: Arts Commons Presents 2: Arts Commons Presents 3: Arts Commons Presents 1: Arts Commons Presents 2: Arts Commons Presents 3: Arts Commons Presents 1: Arts Commons Presents 2: Arts Commons Presents 3: Arts Commons Presents 1: Arts Commons Presents 2: Arts Commons Presents 3: Arts Commons Presents 1: Arts Commons Presents 2: Arts Commons Presents 3: Arts Commons Presents 1: Arts Commons Presents 2: Arts Commons Presents 3: Arts Commons Presents 1: Arts Commons Presents 2: Arts Commons Presents 3: Arts Commons Presents 1: Arts Commons Presents 2: Arts Commons Presents 3: Arts Commons Presents 1: Arts Commons Presents 2: Arts Commons Presents 3: Arts Commons Presents 1: Arts Commons Presents 2: Arts Commons Presents 3: Arts Commons Presents 1: Arts Commons Presents 2: Arts Commons Presents 3: Arts Commons Presents 1: Arts Commons Presents 2: Arts Commons Presents 3: Arts Commons Presents 1: Arts Commons Presents 2: Arts Commons Presents 3: Arts Commons Presents 1: 2: 3: 1: 2: 3: 1: Arts Commons Presents 2: Arts Commons Presents 3: Arts Commons Presents 1: Arts Commons Presents 2: Arts Commons Presents 3: Arts Commons Presents 1: Arts Commons Presents 2: Arts Commons Presents 3: Arts Commons Presents 1: Arts Commons Presents 2: Arts Commons Presents 3: Arts Commons Presents 1: 2: 3: 1: 2: 3: 1: 2: 3: 1: 2: 3: 1: Arts Commons Presents 2: Arts Commons Presents 3: Arts Commons Presents 1: Arts Commons Presents 2: Arts Commons Presents 3: Arts Commons Presents 1: 2: 3: 1: Arts Commons Presents 2: Arts Commons Presents 3: Arts Commons Presents 1: Arts Commons Presents 2: Arts Commons Presents 3: Arts Commons Presents 1: Arts Commons Presents 2: Arts Commons Presents 3: Arts Commons Presents 1: Arts Commons Presents 2: Arts Commons Presents 3: Arts Commons Presents 1: Arts Commons Presents 2: Arts Commons Presents 3: Arts Commons Presents 1: Arts Commons Presents 2: Arts Commons Presents 3: Arts Commons Presents 1: Arts Commons Presents 2: Arts Commons Presents 3: Arts Commons Presents 1: 2: 3: 1: 2: 3: 1: 2: 3: 1: 2: 3: 1: Arts Commons Presents 2: Arts Commons Presents 3: Arts Commons Presents 1: Arts Commons Presents 2: Arts Commons Presents 3: Arts Commons Presents 1: 2: 3: 1: Arts Commons Presents 2: Arts Commons Presents 3: Arts Commons Presents 1: Arts Commons Presents 2: Arts Commons Presents 3: Arts Commons Presents 1: One Yellow Rabbit 2: One Yellow Rabbit 3: One Yellow Rabbit 1: Arts Commons Presents 2: Arts Commons Presents 3: Arts Commons Presents 1: 2: 3: 1: Arts Commons Presents 2: Arts Commons Presents 3: Arts Commons Presents 1: Arts Commons Presents 2: Arts Commons Presents 3: Arts Commons Presents 1: Arts Commons Presents 2: Arts Commons Presents 3: Arts Commons Presents 1: Arts Commons Presents 2: Arts Commons Presents 3: Arts Commons Presents 1: 2: 3: 1: Arts Commons Presents 2: Arts Commons Presents 3: Arts Commons Presents 1: Arts Commons Presents 2: Arts Commons Presents 3: Arts Commons Presents 1: Arts Commons Presents 2: Arts Commons Presents 3: Arts Commons Presents 1: Arts Commons Presents 2: Arts Commons Presents 3: Arts Commons Presents 1: Arts Commons Presents 2: Arts Commons Presents 3: Arts Commons Presents