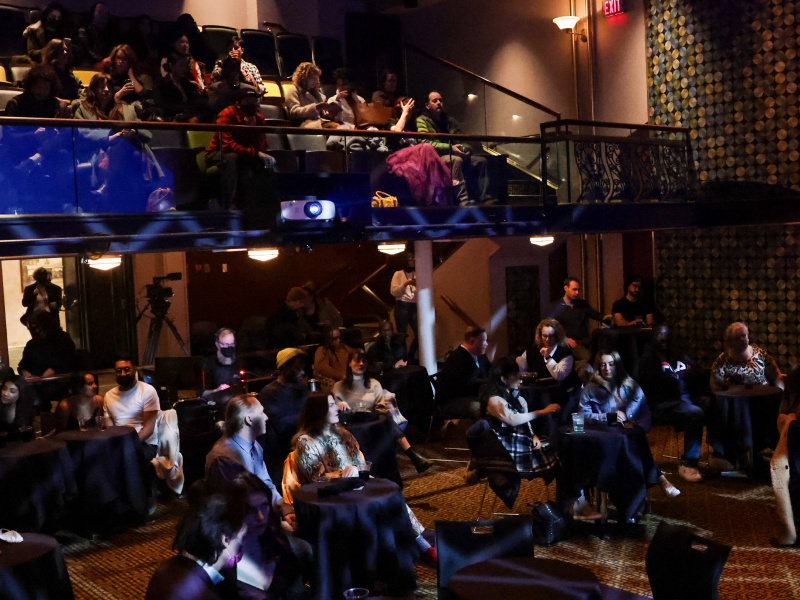 TD Amplify Cabarets
If you know, you know.
Venture down to the Engineered Air Theatre for the uncategorizable, underground hit series from Arts Commons Presents, the TD Amplify Cabarets. Now in its sixth season, this collection of cabarets will once again feature local artists in conversation with the most pressing cultural, artistic, and social conversations of today, all of whom are season participants in the Arts Commons TD Incubator program.
The 2023-24 season of TD Amplify Cabarets will be curated by spoken word performer, community builder, Calgary's sixth Poet Laureate, and TD Incubator program alumnus, Wakefield Brewster.
1: 1: 1: Downstage 1: 1: Arts Commons Presents 1: 1: Tandem.mu 1: 1: Wine, Women, & Well-Being 1: 1: Kawalease ACT 1: 1: 1: 1: 1: Arts Commons Presents 1: Echo Arts 1: 1: Arts Commons Galleries 1: 1: Arts Commons Presents 1: Mermaid in the Shade 1: Arts Commons Presents 1: Calgary Civic Symphony 1: Calgary Civic Symphony 1: Calgary Civic Symphony 1: Calgary Civic Symphony 1: Calgary Civic Symphony 1: Arts Commons Presents 1: 1: Front Row Centre Players 1: 1: Bow Valley College 1: Arts Commons 1: 4 Winds 1: Arts Commons 1: Front Row Centre Players 1: Front Row Centre Players 1: Front Row Centre Players 1: Front Row Centre Players 1: 1: F.T.L.O 1: WBFF Alberta Entertainment 1: Arts Commons Presents 1: 1: Live Nation 1: Arts Commons Presents 1: Arts Commons Presents 1: Arts Commons Presents 1: Arts Commons Presents 1: Arts Commons Presents 1: Arts Commons Presents 1: Live Nation 1: Arts Commons Presents 1: Arts Commons Presents 1: 1: Calgary Civic Symphony 1: 1: Arts Commons Presents 1: Arts Commons Presents 1: Arts Commons Presents 1: Arts Commons Presents 1: Arts Commons Presents 1: Arts Commons Presents 1: Arts Commons Presents 1: Calgary Philharmonic Orchestra 1: Live Nation 1: 1: 1: Live Nation 1: Arts Commons Presents 1: Arts Commons Presents 1: Arts Commons Presents 1: Arts Commons Presents 1: Arts Commons Presents 1: 1: 1: Live Nation 1: Live Nation 1: 1: 1: Arts Commons Presents 1: Arts Commons Presents 1: Arts Commons Presents 1: West Island College 1: 1: 1: GFN Productions 1: Downstage 1: Downstage 1: Downstage 1: Downstage 1: Geronimo Inc. 1: Alberta Children's Hospital Foundation 1: New West Society 1: Arts Commons 1: 1: ActionDignity 1: Calgary Philharmonic Orchestra 1: Live Nation 1: 1: 1: Arts Commons Connects 1: Arts Commons Galleries 1: 1: 1: Live Nation 1: 1: 1: 1: Calgary Philharmonic Orchestra 1: Calgary Philharmonic Orchestra 1: 1: West Island College 1: Arts Commons Presents 1: Calgary Philharmonic Orchestra 1: Arts Commons Presents 1: 1: 1: Theatre Calgary 1: Theatre Calgary 1: Theatre Calgary 1: Arts Commons Presents 1: Showtime Australia 1: Calgary Philharmonic Orchestra 1: Live Nation 1: Calgary Philharmonic Orchestra 1: Calgary Civic Symphony 1: 1: Arts Commons Connects 1: Calgary Philharmonic Orchestra 1: Calgary Philharmonic Orchestra 1: Chris Mitchell Jazz 1: Calgary Philharmonic Orchestra 1: Firdaus Production Inc 1: 1: Calgary Philharmonic Orchestra 1: Moon Coin Productions 1: Calgary Philharmonic Orchestra 1: Calgary Philharmonic Orchestra 1: Calgary Philharmonic Orchestra 1: Calgary Philharmonic Orchestra 1: Calgary Philharmonic Orchestra 1: Calgary Philharmonic Orchestra 1: Alive Danceworks 1: West Island College 1: Absolute Dance Inc 1: André Buarque 1: Arts Commons Galleries 1: Shantero Productions 1: Arts Commons 1: Calgary Folk Music Festival 1: Calgary Folk Music Festival 1: Shantero Productions 1: Calgary Philharmonic Orchestra 1: Two Towers 1: Live Nation 1: Live Nation 1: New West Society 1: Kensington Wine Market 1: One Yellow Rabbit 1: One Yellow Rabbit 1: One Yellow Rabbit 1: One Yellow Rabbit 1: One Yellow Rabbit 1: One Yellow Rabbit 1: One Yellow Rabbit 1: One Yellow Rabbit 1: One Yellow Rabbit 1: One Yellow Rabbit 1: One Yellow Rabbit 1: One Yellow Rabbit 1: One Yellow Rabbit 1: One Yellow Rabbit 1: One Yellow Rabbit 1: One Yellow Rabbit 1: One Yellow Rabbit 1: One Yellow Rabbit 1: One Yellow Rabbit 1: One Yellow Rabbit 1: One Yellow Rabbit 1: One Yellow Rabbit 1: One Yellow Rabbit 1: One Yellow Rabbit 1: One Yellow Rabbit 1: Arts Commons Connects 1: Create Kids Fest 2022 1: Create Kids Fest 2022 1: Bow Valley College 1: Calgary Philharmonic Orchestra 1: Calgary Civic Symphony 1: Calgary Civic Symphony 1: Calgary Civic Symphony 1: Calgary Civic Symphony 1: Calgary Civic Symphony 1: 1: Geronimo Inc. 1: 1: 1: Calgary Philharmonic Orchestra