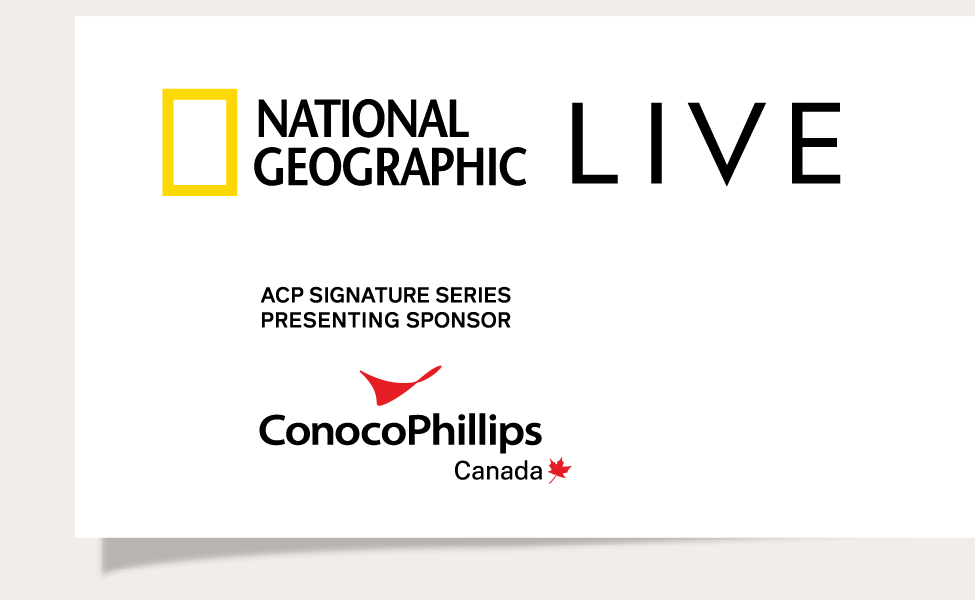 National Geographic Live
Oceanic depths to walking among the clouds. Endangered species to ancient animals to the wonders of everyday life in extreme climates. National Geographic Live brings the whole world to the Jack Singer Concert Hall stage in stunning high-definition photography and video paired with wild first-hand accounts from the field. Our National Geographic Explorers always leave audiences with renewed compassion and empathy for our planet and the people who inhabit it.
See below for the 2023-24 season of National Geographic Live. Each presentation is 90 minutes long, plus an open post-show Q&A session. And stick around after the show – you might get to meet an Explorer! And if you really love National Geographic Live, consider joining our membership program, Explorers Circle, to enhance your experience.
Looking for National Geographic Live Education programs for your students?
"

Always interesting,

you always walk away learning something

new.

"

National Geographic Live Patron
"
Very eye-opening and inspiring.
"
National Geographic Live Patron
"
The presentation itself was out of this world.
"
National Geographic Live Patron
"

Nat Geo Live is an inspiring, educational, and FUN experience for all ages. The storytelling and format is always spectacular.

"

National Geographic Live Patron
"

Nat Geo Live is always inspiring and I leave feeling refreshed.

"

National Geographic Live Patron
1: 1: 1: Downstage 1: 1: Arts Commons Presents 1: 1: Tandem.mu 1: 1: Wine, Women, & Well-Being 1: 1: Kawalease ACT 1: 1: 1: 1: 1: Arts Commons Presents 1: Echo Arts 1: 1: Arts Commons Galleries 1: 1: Arts Commons Presents 1: Mermaid in the Shade 1: Arts Commons Presents 1: Calgary Civic Symphony 1: Calgary Civic Symphony 1: Calgary Civic Symphony 1: Calgary Civic Symphony 1: Calgary Civic Symphony 1: Arts Commons Presents 1: 1: Front Row Centre Players 1: 1: Bow Valley College 1: Arts Commons 1: 4 Winds 1: Arts Commons 1: Front Row Centre Players 1: Front Row Centre Players 1: Front Row Centre Players 1: Front Row Centre Players 1: 1: F.T.L.O 1: WBFF Alberta Entertainment 1: Arts Commons Presents 1: 1: Live Nation 1: Arts Commons Presents 1: Arts Commons Presents 1: Arts Commons Presents 1: Arts Commons Presents 1: Arts Commons Presents 1: Arts Commons Presents 1: Live Nation 1: Arts Commons Presents 1: Arts Commons Presents 1: 1: Calgary Civic Symphony 1: 1: Arts Commons Presents 1: Arts Commons Presents 1: Arts Commons Presents 1: Arts Commons Presents 1: Arts Commons Presents 1: Arts Commons Presents 1: Arts Commons Presents 1: Calgary Philharmonic Orchestra 1: Live Nation 1: 1: 1: Live Nation 1: Arts Commons Presents 1: Arts Commons Presents 1: Arts Commons Presents 1: Arts Commons Presents 1: Arts Commons Presents 1: 1: 1: Live Nation 1: Live Nation 1: 1: 1: Arts Commons Presents 1: Arts Commons Presents 1: Arts Commons Presents 1: West Island College 1: 1: 1: GFN Productions 1: Downstage 1: Downstage 1: Downstage 1: Downstage 1: Geronimo Inc. 1: Alberta Children's Hospital Foundation 1: New West Society 1: Arts Commons 1: 1: ActionDignity 1: Calgary Philharmonic Orchestra 1: Live Nation 1: 1: 1: Arts Commons Connects 1: Arts Commons Galleries 1: 1: 1: Live Nation 1: 1: 1: 1: Calgary Philharmonic Orchestra 1: Calgary Philharmonic Orchestra 1: 1: West Island College 1: Arts Commons Presents 1: Calgary Philharmonic Orchestra 1: Arts Commons Presents 1: 1: 1: Theatre Calgary 1: Theatre Calgary 1: Theatre Calgary 1: Arts Commons Presents 1: Showtime Australia 1: Calgary Philharmonic Orchestra 1: Live Nation 1: Calgary Philharmonic Orchestra 1: Calgary Civic Symphony 1: 1: Arts Commons Connects 1: Calgary Philharmonic Orchestra 1: Calgary Philharmonic Orchestra 1: Chris Mitchell Jazz 1: Calgary Philharmonic Orchestra 1: Firdaus Production Inc 1: 1: Calgary Philharmonic Orchestra 1: Moon Coin Productions 1: Calgary Philharmonic Orchestra 1: Calgary Philharmonic Orchestra 1: Calgary Philharmonic Orchestra 1: Calgary Philharmonic Orchestra 1: Calgary Philharmonic Orchestra 1: Calgary Philharmonic Orchestra 1: Alive Danceworks 1: West Island College 1: Absolute Dance Inc 1: André Buarque 1: Arts Commons Galleries 1: Shantero Productions 1: Arts Commons 1: Calgary Folk Music Festival 1: Calgary Folk Music Festival 1: Shantero Productions 1: Calgary Philharmonic Orchestra 1: Two Towers 1: Live Nation 1: Live Nation 1: New West Society 1: Kensington Wine Market 1: One Yellow Rabbit 1: One Yellow Rabbit 1: One Yellow Rabbit 1: One Yellow Rabbit 1: One Yellow Rabbit 1: One Yellow Rabbit 1: One Yellow Rabbit 1: One Yellow Rabbit 1: One Yellow Rabbit 1: One Yellow Rabbit 1: One Yellow Rabbit 1: One Yellow Rabbit 1: One Yellow Rabbit 1: One Yellow Rabbit 1: One Yellow Rabbit 1: One Yellow Rabbit 1: One Yellow Rabbit 1: One Yellow Rabbit 1: One Yellow Rabbit 1: One Yellow Rabbit 1: One Yellow Rabbit 1: One Yellow Rabbit 1: One Yellow Rabbit 1: One Yellow Rabbit 1: One Yellow Rabbit 1: Arts Commons Connects 1: Create Kids Fest 2022 1: Create Kids Fest 2022 1: Bow Valley College 1: Calgary Philharmonic Orchestra 1: Calgary Civic Symphony 1: Calgary Civic Symphony 1: Calgary Civic Symphony 1: Calgary Civic Symphony 1: Calgary Civic Symphony 1: 1: Geronimo Inc. 1: 1: 1: Calgary Philharmonic Orchestra