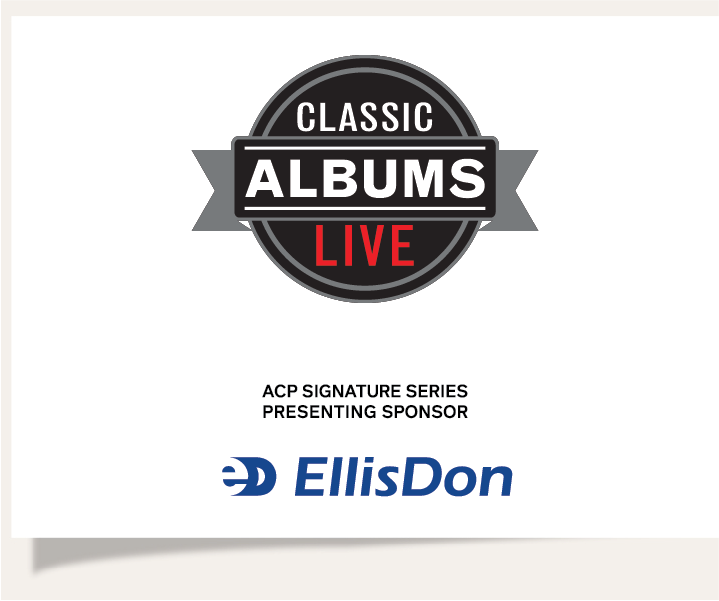 Classic Albums Live
Note for note, cut for cut, these are the most faithful recreations of the most beloved albums ever etched on vinyl. The smash-hit series Classic Albums Live relies only on great music and "the world's best musicians" gathered by Canadian founder Craig Martin. Classic Albums Live formula is a tried-and-true staple in concert halls across North America: the first half is a faithful reproduction of an iconic album, note for note, cut for cut, and the second half is a no-holds barred revue of the band's best hits. With Classic Albums Live in the Jack Singer Concert Hall, you can celebrate your favourite records with hundreds of fellow fans and an unmatchable sound quality.
The 2023-24 season of Classic Albums Live from Arts Commons Presents honours three albums that beg to be experienced in a crowded theatre: Led Zeppelin: Houses of the Holy, Queen: News of the World, and Eagles: Their Greatest Hits. Subscribe now.
"

Excellent as always! Everything about it. Musicianship continues to be exceptional. … Have referred many people to these concerts all over the continent!
"
Classic Albums Live Patron
"

If you close your eyes you would swear that you were in the actual band's concert.
"
Classic Albums Live Patron
"

The performance was magical and transported me to my younger years! … The musicians are top notch.
"
Classic Albums Live Patron
"
Enjoyed the show immensely, it was excellent. Very, very talented musicians.
"
Classic Albums Live Patron
"The performers always bring their "A Games" and replicate the material to perfection.

"
Classic Albums Live Patron
1: Live Nation 1: Arts Commons Presents 1: Arts Commons Presents 1: 1: Calgary Civic Symphony 1: 1: Arts Commons Presents 1: Arts Commons Presents 1: Arts Commons Presents 1: Arts Commons Presents 1: Arts Commons Presents 1: Arts Commons Presents 1: Arts Commons Presents 1: Calgary Philharmonic Orchestra 1: Live Nation 1: 1: 1: Live Nation 1: Arts Commons Presents 1: Arts Commons Presents 1: Arts Commons Presents 1: 1: Arts Commons Presents 1: Arts Commons Presents 1: 1: 1: Live Nation 1: Live Nation 1: 1: 1: Arts Commons Presents 1: Arts Commons Presents 1: Arts Commons Presents 1: West Island College 1: 1: 1: GFN Productions 1: Downstage 1: Downstage 1: Downstage 1: Downstage 1: Geronimo Inc. 1: Alberta Children's Hospital Foundation 1: New West Society 1: Arts Commons 1: 1: ActionDignity 1: Calgary Philharmonic Orchestra 1: Live Nation 1: 1: 1: Arts Commons Connects 1: Arts Commons Galleries 1: 1: 1: Live Nation 1: Bow Valley College 1: 1: 1: 1: Calgary Philharmonic Orchestra 1: Calgary Philharmonic Orchestra 1: 1: West Island College 1: Arts Commons Presents 1: Calgary Philharmonic Orchestra 1: Arts Commons Presents 1: 1: 1: Theatre Calgary 1: Theatre Calgary 1: Theatre Calgary 1: Arts Commons Presents 1: Showtime Australia 1: Calgary Philharmonic Orchestra 1: Live Nation 1: Calgary Philharmonic Orchestra 1: Calgary Civic Symphony 1: 1: Arts Commons Connects 1: Calgary Philharmonic Orchestra 1: Calgary Philharmonic Orchestra 1: Chris Mitchell Jazz 1: Calgary Philharmonic Orchestra 1: Firdaus Production Inc 1: 1: Calgary Philharmonic Orchestra 1: Moon Coin Productions 1: Calgary Philharmonic Orchestra 1: Calgary Philharmonic Orchestra 1: Calgary Philharmonic Orchestra 1: Calgary Philharmonic Orchestra 1: Calgary Philharmonic Orchestra 1: Calgary Philharmonic Orchestra 1: Alive Danceworks 1: West Island College 1: Absolute Dance Inc 1: André Buarque 1: Arts Commons Galleries 1: Shantero Productions 1: Arts Commons 1: Calgary Folk Music Festival 1: Calgary Folk Music Festival 1: Shantero Productions 1: Calgary Philharmonic Orchestra 1: Two Towers 1: Live Nation 1: Live Nation 1: New West Society 1: Kensington Wine Market 1: One Yellow Rabbit 1: One Yellow Rabbit 1: One Yellow Rabbit 1: One Yellow Rabbit 1: One Yellow Rabbit 1: One Yellow Rabbit 1: One Yellow Rabbit 1: One Yellow Rabbit 1: One Yellow Rabbit 1: One Yellow Rabbit 1: One Yellow Rabbit 1: One Yellow Rabbit 1: One Yellow Rabbit 1: One Yellow Rabbit 1: One Yellow Rabbit 1: One Yellow Rabbit 1: One Yellow Rabbit 1: One Yellow Rabbit 1: One Yellow Rabbit 1: One Yellow Rabbit 1: One Yellow Rabbit 1: One Yellow Rabbit 1: One Yellow Rabbit 1: One Yellow Rabbit 1: One Yellow Rabbit 1: Arts Commons Connects 1: Create Kids Fest 2022 1: Create Kids Fest 2022 1: Bow Valley College 1: Calgary Philharmonic Orchestra 1: Calgary Civic Symphony 1: Calgary Civic Symphony 1: Calgary Civic Symphony 1: Calgary Civic Symphony 1: Calgary Civic Symphony 1: 1: 1: Geronimo Inc. 1: 1: 1: Calgary Philharmonic Orchestra 1: Calgary Philharmonic Orchestra 1: Calgary Philharmonic Orchestra 1: Calgary Philharmonic Orchestra 1: Calgary Philharmonic Orchestra 1: Calgary Philharmonic Orchestra 1: Calgary Philharmonic Orchestra 1: Calgary Philharmonic Orchestra 1: Calgary Philharmonic Orchestra 1: Calgary Philharmonic Orchestra 1: Arts Commons Presents 1: Arts Commons Presents 1: Live Nation 1: Arts Commons Presents 1: Live Nation 1: One Yellow Rabbit 1: Shantero Productions 1: Arts Commons Presents 1: Immigrant Services Calgary 1: The Wiggles Live 1: Downstage 1: Arts Commons Presents 1: The Institute for Canadian Citizenship 1: One Yellow Rabbit 1: CIF Reconciliation Society presents 1: MODO-LIVE Presents 1: Murray & Peter Present 1: SAITSA 100th Anniversary Presents 1: Arts Commons Presents 1: Arts Commons Presents 1: Arts Commons Presents 1: Arts Commons Presents 1: Arts Commons Presents 1: Arts Commons Presents 1: Arts Commons Presents 1: Arts Commons Presents 1: Arts Commons Presents 1: Arts Commons Presents 1: Arts Commons Presents 1: Arts Commons Presents 1: Arts Commons Presents 1: Arts Commons Presents 1: Arts Commons Presents 1: Arts Commons Presents 1: Arts Commons Presents 1: Arts Commons Presents 1: Arts Commons Presents 1: Arts Commons Presents 1: Starvox Entertainment and Potted Productions Present 1: The Canadian Arabic Orchestra