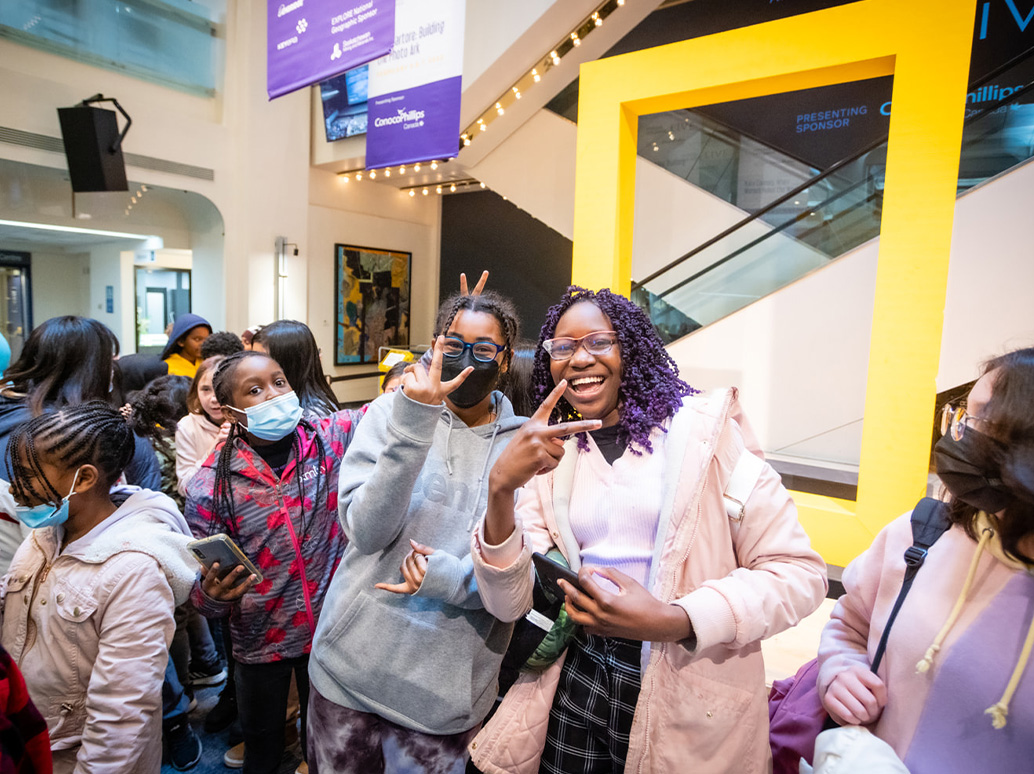 National Geographic Live Student Presentations
Through the power of visual and oral storytelling, National Geographic Live illuminates the wonders of our world, connects it to our everyday lives, and inspires us to protect it.
These 60-minute student presentation takes place on the stunning Jack Singer Concert Hall stage, followed by an open Q&A where students can ask their burning questions and engage directly with intrepid Explorers. For many of our young audience members, these experiences are life-changing, inspiring them to dive deeper into our natural world and do more to keep our planet in balance.
Inquire today about the 2023-24 season at the button below or call the Arts Commons Box Office at 403-294-7414.
Upcoming
Andy Mann: From Summit to Sea
November 20, 2023 at 10:15 a.m.
Dive in with filmmaker and photographer Andy Mann as he journeys from climber to diver, and tells the story of our rapidly changing planet, from top to bottom, in stunning imagery on the Jack Singer Concert Hall stage.
Sandesh Kadur: Wild Cats Revealed
January 29, 2024 at 10:15 a.m.
Journey with photographer and filmmaker Sandesh Kadur through the diverse landscapes of India to discover its lesser-known felines—from the tiny, grumpy-faced Pallas's cat to the elusive clouded leopard.
Lindsay Zanno: T. rex Rises
March 11, 2024 at 10:15 a.m.
Travel back in time with paleontologist Dr. Lindsay Zanno and discover the fascinating story of how a Cretaceous climate crisis gave rise to the most famous mega predator of all time—T. rex.
Kiliii Yüyan: Life on Thin Ice
May 27, 2024 at 10:15 a.m.
May 28, 2024 at 10:00 a.m. & 12:45 p.m.
Illuminating the human experience in some of the world's harshest environments, photographer and National Geographic Live's first Indigenous speaker, Kiliii Yüyan, leans on his ancestry that is both Nanai and Chinese-American to capture the beauty of the Arctic and its Indigenous inhabitants.
A Special Presentation

National Geographic Film Concert: Secrets of the Whales
April 22, 2024 at 10:15 a.m.
A unique film-concert experience, James Cameron and Brian Skerry's Secrets of the Whales comes to life on stage, pairing highlights from the Emmy-winning National Geographic Disney+ original series with a live symphony orchestra and live narration from award-winning recording artist, Jann Arden.
Tickets are: $18/student. A chaperone comp is given for every 8 tickets booked.
"T
he wonder and awe that these programs always generate in students is awesome."

Teacher after National Geographic Live
"Thank you!!! It was a highlight for my class this year
."

Teacher after National Geographic Live
"This presentation exposed my students to a different part of the world they otherwise would never get to appreciate
."

Teacher after National Geographic Live
Know your policy
We are excited to welcome school and learning groups back to Arts Commons. We ask that all groups know the COVID-19 policy of their affiliate school board prior to booking a field trip to National Geographic Live. If your school group is unaffiliated, please refer to the Arts Commons and Resident Companies vaccination policy.
Thank You Sponsors!
All of your contributions are greatly appreciated.