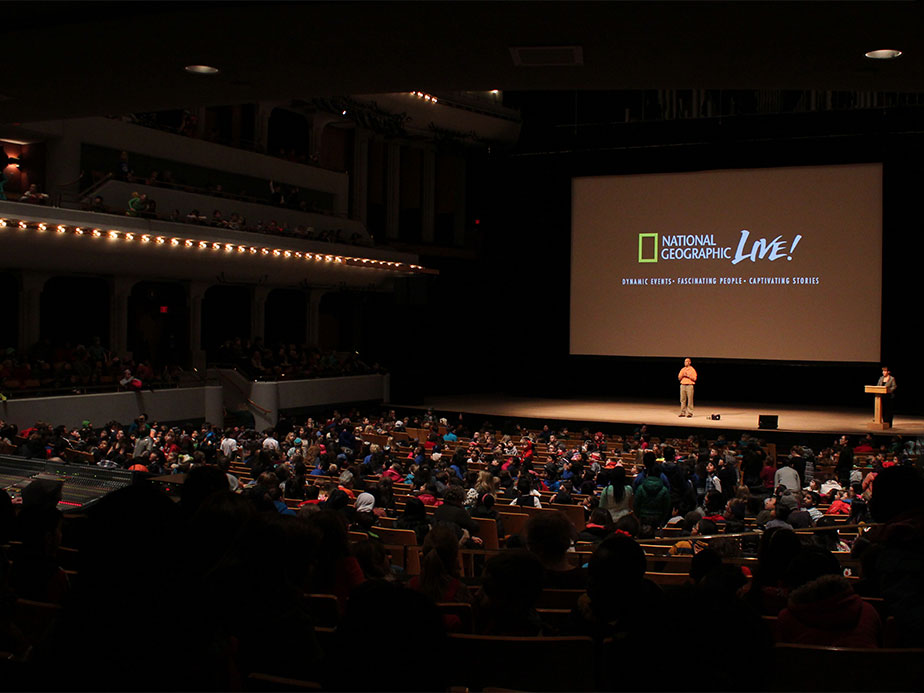 National Geographic Live student matinees
Through the power of visual and verbal storytelling, National Geographic Live illuminates the wonders of our world and inspires us to protect it. The 60-minute student matinee presentation takes place from the stunning Jack Singer Concert Hall stage and is followed by an open Q&A session where students can ask their burning questions and engage with these intrepid Explorers. For many of our young audience members, these experiences are life-changing, inspiring them to dive deeper into our natural world and do more to keep our planet in balance.
For the 2021-22 season, Arts Commons Presents offers five student matinee presentations:
Joel Sartore: Building the Photo Ark

(Recommended for Grades 3-12)


February 7, 2022 at 10:15 a.m. This presentation will be capped at 50% capacity with classrooms socially distanced in the auditorium. Masks are mandatory while inside Arts Commons.
Kara Cooney: When Women Ruled the World

(Recommended for Grades 6-12)




March 14, 2022 at 10:15 a.m.

Rae Wynn-Grant: The Secret Life of Bears (Recommended for Grades 3-12)
April 11 and 12, 2022 at 10:15 a.m.
Brian Skerry: Secrets of the Whales (Recommended for Grades 3-12)
May 16, 2022 at 10:15 a.m.
Tickets are: $13/student. A chaperone comp is given for every 8 tickets booked.
Know your policy
We are excited to welcome school and learning groups back to Arts Commons. We ask that all groups know the COVID-19 policy of their affiliate school board prior to booking a field trip to National Geographic Live. If your school group is unaffiliated, please refer to the Arts Commons and Resident Companies vaccination policy.
"T
he wonder and awe that these programs always generate in students is awesome.

"


Teacher after National Geographic Live
"
Thank you!!! It was a highlight for my class this year

.

"


Teacher after National Geographic Live
"This presentation exposed my students to a different part of the world they otherwise would never get to appreciate
.

"


Teacher after National Geographic Live