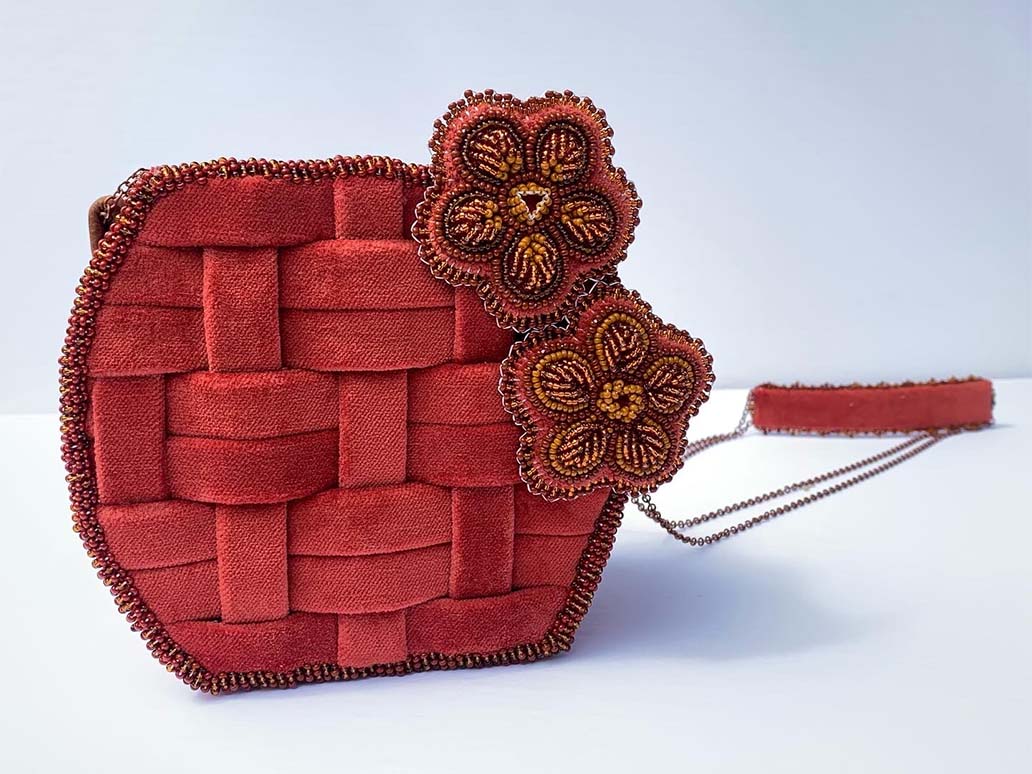 ARTIST STATEMENT:
I enjoy working from a hands on based approach in my practice. Being able to touch and feel the work throughout its creation is important. It creates a relationship and a deeper understanding of the work itself and how it becomes something. I'm very much interested in fusing traditional Haudenosaunee art and craft with more contemporary formats. Recently I constructed a woven basket/purse that's currently on view at Fort Calgary. For this work I utilized materials you find in traditional Haudenosaunee beadwork. Our baskets are woven using ash tree and I wanted to play on that idea focusing on material. I built the woven structure with a stabilizer covered in velveteen, formed the flat side pieces with a softer stabilizer, and added Haudenosaunee raised beaded accents and a long chain shoulder strap. It's very contemporary in its look but still infused with the art and craft culture.
"Truth and reconciliation is about inclusion. Living as a minority within your own homelands is exhausting. It's time for Indigenous communities to be recognized, uplifted, and given the opportunity to take up space. Far too long we have been outcasted from the progressions of society. We're not going anywhere, so make room."
ARTIST BIOGRAPHY:
I'm a Haudenosaunee Artist and Maker from Kahnawake Mohawk Territory. My Kanien'keha name associates me to the flowers and this translates in a lot of my work. I lived in my community for my entire life up until I moved to Calgary to attend AUArts in 2018. Prior to my move I attended Lasalle College in Montreal studying in the Creative Arts and Literature program. My work since then has transformed tremendously. The Fibre department at AUArts has opened a lot of creative avenues for me since I began my studies. I plan to graduate in 2023 as a Fibre Major.
What is one thing you would like Calgary citizens to do as an act of reconciliation?
Educate yourselves! While I believe in open dialogue, you need to understand that not all Indigenous people want to be walking encyclopaedias. There are spaces dedicated to truthful education. Support those spaces and the community members who dedicate their time to making these resources available.